Welsh will focus on how to keep this Genia firmly in his bottle
For the Wallabies to be successful Will Genia has to have space to play, writes Greg Growden.
WILL GENIA is the Wallabies' official barometer. Same with the Queensland Reds. How he performs is a guide to whether there are bright skies or storm clouds hovering over both camps. If Genia is at the top of his game, the Wallabies and Reds are winning. If Genia is off colour, more often than not so too are the national and provincial team.
Every opponent knows that. Contain this quality Test halfback and you're three-quarters of the way towards beating the Wallabies or Reds. Let him roam free and suffer the consequences.
If you're wondering why the All Blacks, Ireland and even Scotland have been successful in destabilising the Wallabies, it's pretty simple. They attack the prime power source. They distract and fluster Genia.
That doesn't just mean applying intense pressure on the individual, but also corrupting his eight accompanying forwards by stifling their play at the breakdown, being destructive at the set-piece, and ensuring whatever ball supply he gets from his pack is slow, fractured and messy.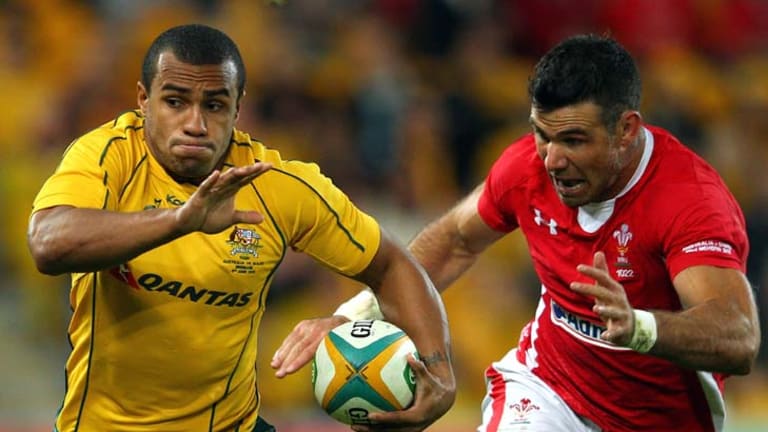 Restrict the space Genia plays in, and he is forced to play a secondary role. Give him space, and Genia is gone, either scoring himself or setting someone up.
Australia's two Test matches this season are the ultimate examples. Scotland stopped Genia for the second time in three years - and they have triumphed on both occasions. It happened at Murrayfield in 2009, and again in Newcastle 12 days ago. The dreadful weather conditions in Newcastle helped, but Scotland still succeeded in hassling Genia.
They were forever in his face, and with the Wallabies attack having little idea of how to adapt to the dreadful weather, Genia couldn't play his natural game, tried to do too much, and was exposed, along with five-eighth Berrick Barnes. Genia had little effect on the game and the Wallabies were humbled.
Onto Brisbane, a hard, dry track, and a Wallaby team wanting to re-establish itself at a ground where they often win. The tactics were basic. Realising that the Welsh players hadn't been involved in a game for well over a month, Australia treated the opening quarter like an Olympic 100 metres sprint. Go helter skelter, become monsters at the breakdown, sweep Wales away with pace and intensity, and see what happened.
With the Wallabies back row on their game, and Wycliff Palu, David Pocock and Scott Higginbotham working as tag-team bash-up merchants, Genia had time, but more importantly space, to create havoc. The Welsh could not get anywhere near him and so he was able to instigate the two tries that ensured victory - the first involving a clever decoy run by Digby Ioane that bluffed two opposing defenders, giving Genia room to squeeze through on the inside, and then a precise pop pass to Pat McCabe, who charged in at an acute angle to break clear.
As Ioane said of Genia: ''If you have big forwards like Wycliff Palu and Sekope Kepu running off him, it just makes his job a lot easier. You've just got to offer something to Will. The best thing about him is that he knows exactly how to put himself or his teammates through gaps.''
In Melbourne this week, every day at both the Wallabies and Welsh media gatherings the proceedings have revolved around asking a passing parade of coaches and players how Genia can be contained. The replies have been pretty simple, best expressed by Welsh forwards coach Robin McBryde: ''We have to get our hands on him more.''
That involves getting to Genia, and then trying to strangle him. That's also why the Welsh have relentlessly talked about being more aggressive. So it could be pretty brutal at Etihad Stadium, but that happens when one individual has such a major influence on a Test series.
Genia knows he is the prime target. It's impossible to ignore, especially as it is being mentioned every second in the public and social media sphere. But he's not bothered by all the fuss.
''I've been targeted before,'' he said yesterday. ''The worst that happens is that you get taken out after you pass the ball and they hold you to the ground, so you're not at the next play. That's all it is.
''If there's a little bit more attention being paid close to the ruck, there's going to be space out wide. From my point of view, that will mean shifting it earlier rather than looking to run.
''If there is extra attention, you just have to deal with it. An area where they will target us is the breakdown and try to slow our ball down, so we don't get front-foot ball and the momentum like we had last week. We know if we can get front-foot ball we can play as we did in Brisbane.''
Genia also wasn't interested in rating his first Test performance, one of his best in the green and gold.
''I don't look back at things like that. I was only able to do what I did because I got good quick ball as the forwards worked hard and gave us momentum.
''I was lucky to be on the back of other guys doing good work.''

Greg Growden is Chief Rugby Correspondent for The Sydney Morning Herald
Morning & Afternoon Newsletter
Delivered Mon–Fri.