Wessels switch means same old line in defence
The Brumbies know the Western Force defensive line is going be a tough nut to crack in their Super Rugby clash on Saturday night.
The Brumbies know because they invested in the same defence coach last year. Defence consultant David Wessels was a significant factor behind the rejuvenated Brumbies in last year's campaign.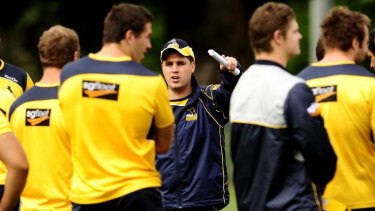 Coach Jake White brought Wessels with him from South Africa to help plug the holes in the defensive line.
But although Wessels has departed, former Springboks defensive coach and new collision consultant Brian Smith has helped the Brumbies ramp it up a notch. The side has conceded the least points per game this year.
The Force are battling at the lower end of the table recording just two wins this season.
But in the past six games they've conceded 11 points fewer than the high-flying Brumbies.
Brumbies captain Ben Mowen said he had seen similar structures developing at the Force to what the Brumbies were still using.
''I did see Dave Wessels, when he was leaving here, take Jake's play book,'' Mowen joked.
''They're a side that has strong structures around the way they would like to defend.''
Throw in a handful of back-rowers who thrive at slowing the ball at the ruck and it makes for a tight, gritty Australian derby scheduled for chilly Canberra on Saturday. The Brumbies earned plenty of praise for their desperate defence in a 19-19 epic against the Queensland Reds last weekend.
But Christian Lealiifano - the competition's leading point scorer - said teams risked underestimating the Brumbies' attack.
''We're really happy with the attack, it's something we tweak every week so teams aren't all over us,'' Lealiifano said. ''But we're very happy with the structures and the way things are working.'' AAP