Who's hot this season? The skippers break it down
On the eve of the Super Rugby season, Georgina Robinson spoke to the captains of the Australian teams.
1. Besides your own, which is the team to beat this season?
Ben Mowen (Brumbies): The Sharks will be dangerous again, they play a very good style of rugby and out of all the South African sides they've got the closest blend of a confrontational style and a lot of skill on top of that. In New Zealand the Highlanders. Matt Hodgson (Force): The Chiefs will be tough again particularly after their success last year. They boast attacking threats across the field.
Gareth Delve (Rebels): In Australia we've yet to taste victory over the Waratahs so we'll be really going after them hard this year.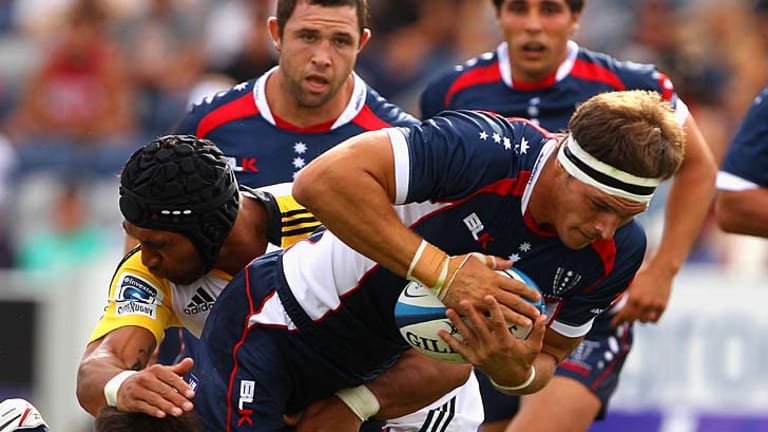 James Horwill (Reds): Chiefs. They've got a similar roster and are defending champs.
Dave Dennis (Waratahs): Crusaders, as they have experience and quality players across the park.
2. Which team will be the biggest improver this year?
BM: There's a lot of unknowns with the Waratahs, and certainly they've changed their identity hugely under [Michael] Cheika and the talent has never been the problem, they've transformed their culture and that's a big worry.
MH: Apart from us, I think the Highlanders will challenge for the semis based on the strength of their recruitment for this season.
GD: The Cheetahs. With halfback Sarel Pretorius going back he'll add a lot of spark, which they maybe missed a bit when he went to the Waratahs. They tend to produce some really exciting backs until the other South African clubs get their hands on them.
JH: Highlanders. They've recruited very well in the off-season.
DD: Highlanders have recruited well and will continue to build on some good rugby from last year.
3. Which team are you most looking forward to meeting and why?
BM: The Reds, they've been super consistent performers and they've been written off time and time again and they've brought players through so they'll be good performers.
MH: The Reds and the Kings. We've built up a healthy rivalry with the Reds, and it'll be a good chance to test ourselves against last year's Australian winners. The Kings game will be a massive occasion, getting to face them in their first match in Super Rugby.
GD: The Reds have been consistently good and are a good way to measure yourself but again the Waratahs are our close cousins so we really want to knock them off.
JH: Brumbies and Waratahs. They're our opening two games and we haven't thought much past that. They are big matches in terms of the Australian conference.
DD: Reds in round two because there'll be a big crowd at Suncorp [Stadium] against our rivals.
4. What sort of rugby can your fans expect from you this year?
BM: Last year we relied heavily on our fitness to keep us in contests and at times we played a safety-first game, which we had to in the first year. But the fitness this year will complement our playing style and there'll be a return to the old style, the way the Brumbies used to hold the ball and force teams to commit penalties to get the ball back. We're going to play that disciplined style again, with just a little extra skill.
MH: A more attacking style of rugby and a back line that will threaten, leading to improved performance.
GD: Hopefully an attractive, exciting style but also a balanced game. We've done a lot of work on our set piece to enable the backs to get plenty of ball, but also there's a bit of a harder edge in terms of the work we've put in so we'll be using the pack as a bit more of a weapon this season.
JH: We're looking to continue and evolve on our brand of rugby with a group of players committed to success.
DD: A style of rugby that reflects our team values and shows our fans how much we care.
5. Which player in your club will have a breakthrough year?
BM: I think Matt Toomua is going to have a massive year. He's been an extremely talented guy and he's still only 23 and he's been on a Wallabies tour. He's been there and apart from injury he would have held that No. 10 jersey for the majority of last year.
MH: [Halfback] Alby Mathewson and [five-eighth] Kyle Godwin. Alby's stood up as one of the leaders of our back line and he'll thrive with that added responsibility. Kyle's already shown that he's building on a strong finish to the 2012 Super Rugby season and representing the Australian under-20's.
GD: [Lock, loose forward] Luke Jones. He had a couple of rave reviews off how well he performed last year and this year could be big. He's a year older and looking strong and fit so if he gets the opportunities, hopefully he can show what he can do.
JH: We're about the team and we've got a lot of guys entering their second and third years.
I'm looking forward to seeing them all kick on.
DD: [Five-eighth] Ben Volavola, he's got a lot of natural ability and could potentially be a really good player for us. He's worked hard the last three months and I think he's going to contribute a lot to the group.

Georgina Robinson is a Sports Reporter for The Sydney Morning Herald
Morning & Afternoon Newsletter
Delivered Mon–Fri.