World Cup dreams prompt Gill's 'non merci' to French clubs
Reds flanker Liam Gill spurned the advances of French rugby clubs to chase his dream of being Australia's first-choice openside in the 2015 Rugby World Cup.
The intriguing tussle for the Wallaby number seven jumper continues this weekend when Gill goes head-to-head with the man who has usurped him in the national pecking order, Waratah Michael Hooper.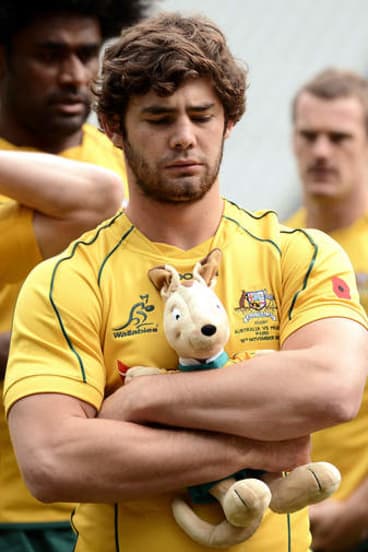 Add the resuming David Pocock back into the equation and three doesn't go into one, ensuring there's a heightened focus each time two of the trio square off in an Australian derby.
Gill, who has 42 caps for the Reds at the age of 21, came to Ballymore as a schoolboy star in 2011 and quickly established himself as an elite competitor on the side of the scrum.
He rocketed into Wallaby calculations but it was Hooper that started in all five Tests on the Spring Tour, with Gill out of Ewen McKenzie's squad altogether for three of the matches.
Gill will remain with the Reds until 2015 but said there was interest from French rugby for his services. Instead, he returned to his native Queensland and has backed his ability to try and win the race to become McKenzie's first-choice ball hound.
"I was in touch with them [French clubs]. But I was more than happy to stay with the Reds and Australian rugby. I just backed myself to give it a shot," Gill said.
"I really do back myself to make it at Australian level and that's where I want to end up. I want to make sure I give myself that chance."
Hooper's running game stands out, as does Pocock's strength over the ball. But Gill is hoping his all-around package can help him rise to the top in what may be the most-competitive spot in the Wallaby starting side.
He concedes he has it all ahead of him, given Hooper's form for both NSW and the Wallabies, and wants to stamp his authority in the Super Rugby rounds. Against the Waratahs, that spotlight intensifies.
"I've still got a lot to prove. They've both been ahead of me in the pecking order and that has been the case. There's a lot that I need to go out and prove. That's what I set out to do. It's Super Rugby where I can show what I can do and influence the game," Gill said.
There's never a media conference where Gill isn't questioned about his battles with Hooper - and now Pocock - but he doesn't view his Wallaby aspirations through the prism of one-on-one conflicts.
If the Reds are winning, he says, the path towards selection suddenly becomes a whole lot smoother.
"If the team wins, it's so much easier. That's where everyone's head is at. They talk about individual battles but if the team gets up, that's enough said," Gill said.
The Waratahs sent up some impressive smoke signals with their romp over the Western Force but Gill said the Reds travel to Sydney full of confidence after knocking over the Brumbies in Canberra.
Winning two games on the road against their biggest Australian rivals would be a massive boost for Queensland before their first home game of the season against the Cheetahs.
"There's a lot of excitement here. Putting together a big win like that first up was really big. We didn't beat them [the Brumbies] last year," Gill said.
"That gives us a lot of confidence. It puts a fair bit of fire in the belly to try and keep that rolling."

Sports reporter
Morning & Afternoon Newsletter
Delivered Mon–Fri.