Wellington increased Newcastle's winless run to seven games and moved into the A-League top six on Sunday with a 3-2 victory at Hunter Stadium.
Phoenix moved to sixth place on 23 points with the victory which left the Jets second last on 20 points after 18 rounds.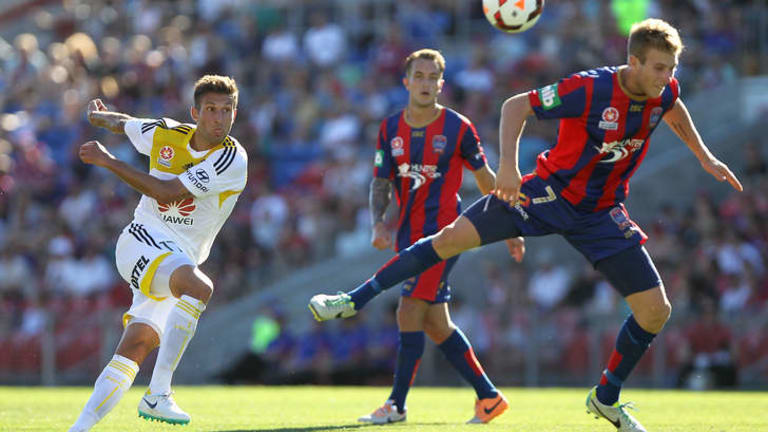 Down 2-1 at halftime, Newcastle equalised inside the first minute after the break when Craig Goodwin scored his second goal. The left winger cut past his marker and struck a smart shot inside the far post with his non-preferred right foot.
But substitute Jason Hicks put the visitors back in front in the 71st minute when he sent two defenders the wrong way before scoring with a well-placed left-foot strike.
In the first half, Wellington created the better chances before Carlos Hernandez made the Jets pay for poor work, with and without the ball, in the 21st minute.
After a sloppy turnover near halfway, Newcastle gave Hernandez too much space close to goal before the Costa Rican wrong-footed two defenders to set up a low, right-foot shot inside the left post.
The Jets, who were without injured marquee man Emile Heskey and recruit David Carney, lost Nick Ward to injury two minutes later but hit back on the 25-minute mark when Goodwin rifled home a left-foot shot after smart work from Zenon Caravella.
After pouncing on a loose ball, Caravella ran towards goal before laying off for a charging Goodwin on the left side.
Hernandez turned provider in the 33rd minute when he passed to Stein Huysegems, whose first touch gave him space and time to bury a low, left-foot strike inside the right post.
Huysegems, the equal leading scorer in the league, and Hernandez were a regular threat to the Jets, who turned over too much ball and were caught flat-footed in defence on several occasions.
Phoenix coach Ernie Merrick praised his side's effort in the hot conditions and their attacking mentality.
Wellington have scored 15 goals in their past six games and Merrick believes that momentum and attitude could keep them in the top six.
''We had three shots and a cross that was mishit inside one minute forty, and our first shot was at nine seconds,'' Merrick said. ''The mentality I'm trying to instil in the boys is to start trying to score goals and, in the 93rd minute, see if you can score another one, and that's hitting home.
''It cost us in the first 10 rounds ... but if we get that mentality right, we'll cause problems for any team.''
Jets interim coach Clayton Zane was at a loss to explain his side's lacklustre start and said he needed hungry players for the remaining nine rounds.
''We had such tremendous support against Western Sydney last week (in a 2-2 draw), and I said to the boys at halftime: we're the ones that need to create the atmosphere,'' Zane said.
''You can't expect to turn up and let the fans lead the way. It starts on the park.
''We were just so slow out of the blocks today.
''Players and coaches get paid good money, and you need to turn up.
''It's a bit of a lesson for us and a hard one to take because this was an important game to get on that road to making that top six.''
Zane expected to have Heskey back on board next week but said Andrew Hoole would be suspended on yellow card accumulation and Ward was unlikely due to a knee injury.
Morning & Afternoon Newsletter
Delivered Mon–Fri.