ENGLISH football's most consuming rivalry is a package of fine individual talent, cathedral-like stadiums and tribal passions that have made Manchester the capital city of the Premier League. But the volcanic end to Sunday's derby confirmed an open secret; the Mancunian feud is in danger of veering out of control.
Let us not be hypocritical. These sulphurous encounters light up dull Sundays. Neutrals flock to the TV glow to see matches settled by illustrious players. Talk the following day is fuelled by disputes and controversies. We marvel at the rolling drama of the English game and twitch while waiting for the next instalment.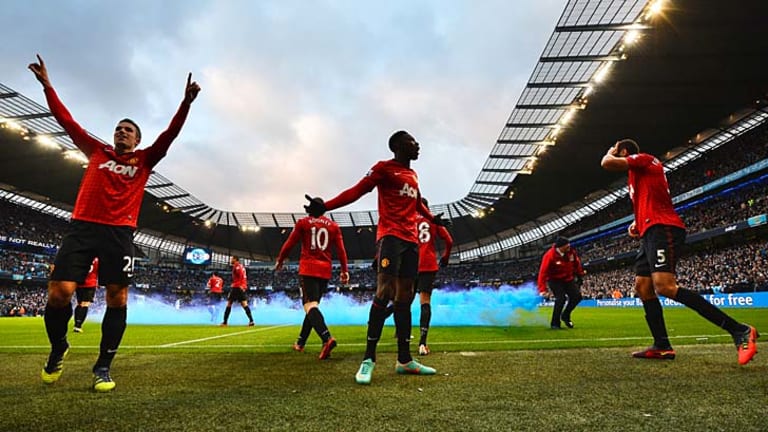 Across Manchester and beyond, though, plenty of people feel a sinister edge has attached itself to the league-topping saga of red V sky blue. Not all of them are in the police. The first intimation of it was perhaps the gang of balaclava-clad ''lobbyists'' who turned up outside Wayne Rooney's house two years ago and warned him not to sign for City. Fans of both teams now feel they run the gauntlet. A lopsided rivalry has become a fearsome, multibillion pound head-to-head between two empires.
An arrest for an alleged racial offence, a pitch invasion and a cut eye for Rio Ferdinand from a projectile preceded a marathon of finger jabbing from players and staff on both sides. City had argued like a sack of ferrets all game and by the end their manager, Roberto Mancini, could look back on heated exchanges with Yaya Toure, Carlos Tevez and Mario Balotelli, whose career has descended into parody.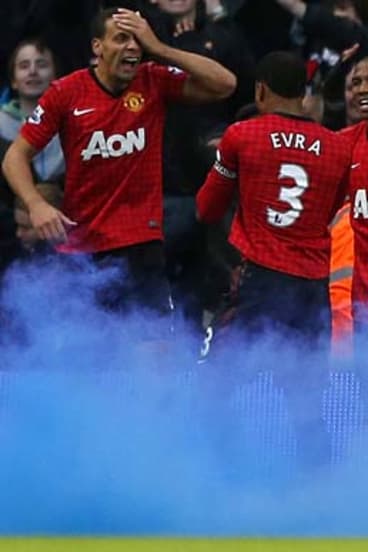 Ferdinand was left with blood squirting from a gash above his left eye. In the same manic passage, a fan staggered on to the pitch and had to be stopped by the City goalkeeper, Joe Hart, from confronting Ferdinand. Another was dragged by police past the back of the dugouts.
All roads lead to Manchester again in this title race and there are six more months to come. It could go on for years. Apart from cancelling all leave and working with the protagonists to lower the temperature on match day, the police will hope not too many more derbies are settled by free kicks in added time from a player who was chased by both clubs in the summer and asserted his right to join United.
Robin van Persie has done more than attack the goal-difference advantage that brought City their first league title for 44 years in May. He has shifted the psychological balance. City have match-winners too, but none is currently a straightforward case. Sergio Aguero had an off day here, Edin Dzeko has been used as an impact sub, Tevez has seemed subdued in several games and Balotelli is a mystery trapped inside an enigma.
Picked for the big game ahead of Tevez, after another stop-start season, Balotelli was hooked after 51 minutes and stomped down the tunnel. Not for the first time, a cabaret from Super Mario set the melodrama in motion. His departure gave the contest a huge jolt. Toure and Pablo Zabaleta scored to bring the game level as both sides counter-attacked at breakneck pace and referee Martin Atkinson began to be overwhelmed by the speed and intensity.
The fates of these two clubs are so entwined these days. Van Persie could have gone to City but signed for United. Tevez, who was at Old Trafford, left the wall inexplicably as van Persie let rip. Jumping out of the way of the shot was Samir Nasri, who was on his way to United two summers ago before changing his mind and diverting to City.
Finally, United's first two goals came from Rooney, who was tempted by City's largesse and issued a statement questioning United's ''ambition'' before the balaclavas appeared outside his house and a conference call with the Glazer family (and subsequent pay rise) altered his thinking.
City's home record was almost kept intact by a second-half flourish. United will not consider them down and out. City came from eight points behind in April to win the title, they are hardly dead at six points behind in December. Yet the vibes between Mancini and some of his players are not good, and they finished bottom of their Champions League group.
United were not about to miss an opportunity to nail City for the scenes at the end. ''It's unfortunate that a City fan runs on and coins are thrown. That shouldn't happen. The same thing happened at Chelsea, which was masked by all the other things,'' Alex Ferguson said, thus skewering two rivals for the price of one.
For entertainment and tension, you could not ask for more. But you can feel this great duel teetering on the edge of nasty civil strife.
Telegraph, London
Morning & Afternoon Newsletter
Delivered Mon–Fri.