THE beautiful game can often be joyous. But just as often it can be downright ugly. It can deliver hope but also destroy dreams in an instant, denying victory in the most cruel fashion.
And it was certainly in the cruellest manner imaginable that Perth Glory failed to win its first A-League title yesterday, losing 2-1 in the grand final after conceding two late goals to defending champion Brisbane Roar, the winner coming in the most heartbreaking fashion through a controversially awarded penalty in the last seconds of normal time.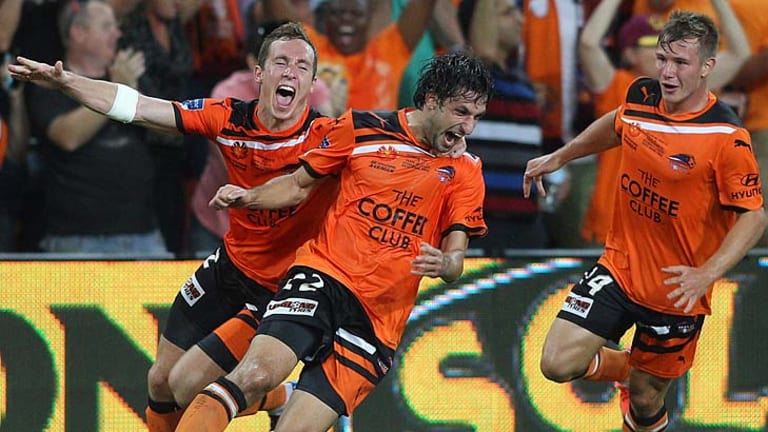 Perth got its nose in front in fortunate circumstances through an own goal in the 51st minute, when Roar defender Ivan Franjic deflected the ball past his own goalkeeper. As the clock ticked into the last 10 minutes it looked as though that would be enough to allow the men from the west to pull off a shock victory.
But the A-League's top scorer, Besart Berisha, intervened in the final moments of a match that once again showed Brisbane's self-belief and its ability to conjure results out of nothing.
Last year the Roar scored twice in the final three minutes of extra time to force a penalty shootout and defeat the Mariners. Yesterday it cut it as fine as it possibly could, but got over the line in normal time.
No one could argue with Berisha's first goal, Brisbane's equaliser, in the 84th minute as the Albanian striker rose to head home past the excellent Danny Vukovic in the Perth goal.
Glory's task got harder when Dean Heffernan was sent off for a reckless challenge on Franjic in injury time and it looked as though Glory would be forced to get through extra time and play for penalties.
But then Berisha was awarded a controversial penalty after replays showed there had been almost no contact before the striker fell to ground. He converted the penalty and give Brisbane its second successive title.
Glory skipper Jacob Burns, who won the Marston Medal for best afield, was incensed after the match.
"I feel we have been robbed by a decision. It has cost us a grand final. A suspect decision," Burns said.
This was very much a game of two halves, with the second bringing tension and drama that the opening 45 minutes sadly lacked. If it is, as expected, to be Ange Postecoglou's last game in charge before he heads south to coach Melbourne Victory next year, it will be one that lives long in his memory.
The fact that Brisbane goalkeeper Michael Theoklitos did not have a save to make in the first 45 minutes did not speak so much about Perth's endeavour — which could not be faulted — but its creativity in the final third.
Still, Brisbane was little better as Perth pushed up and applied enormous pressure to its passing game marshalled by Burns. .
Roar began the second half with greater intensity, with Thomas Broich outpacing Glory defender Josh Risdon before delivering a fierce strike that Vukovic palmed to safety.
Immediately Glory broke away with the hard-working Billy Mehmet finding Travis Dodd wide on the right. The winger crossed the ball that hit Franjic and deflected past Theoklitos to give the outsiders the lead.
It looked as if it would be enough — until Berisha's late, dramatic cameo.
Brisbane Roar 2 (Berisha, 84m, 97m pen)
Perth Glory 1 (Franjic 51m og)
Morning & Afternoon Newsletter
Delivered Mon–Fri.