Canberra Olympic star Nick Faust signs with Central Coast Mariners
Canberra Olympic star Nick Faust has become the second ACT player signed by the Central Coast Mariners in as many weeks.
Faust will join former Canberra United teammate and Gungahlin United winger Mikey Katsoulis as part of the Mariners' National Youth League team.
Faust trialled at Celtic FC last October alongside fellow Canberran Leo Mazis, who was signed, and after missing out at the Scottish powerhouse he was determined to join an A-League club.
The 18-year-old left Tuggeranong United to play under Frank Cachia at Olympic this season and the move has paid dividends for the young defender.
Mariners scouts were impressed with Faust when he played against them for Canberra United over the summer and invited him to trial last month.
"I went up and after a couple of days they said we'd like to sign you," Faust said.
"They basically want me to start in their youth squad and see me work my way up into the first team.
"Celtic is a big club and that would have been great but anything out of Canberra is good.
"It has been challenging but I just kept my head down and trained hard to try and get out of Canberra and sign with a professional club.
"The dream is still to go back overseas and play there one day but for now I just want prove what I can do here."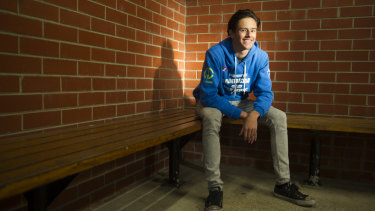 Faust has played in representative teams with Katsoulis since he was 13 and said he was glad to be heading north with a mate.
"I've known him for a fair while and it's good to go up there with a friend, it will be challenging enough without a friend, so it will be good to have someone I know up there," Faust said.
Olympic coach Cachia backed Faust to break into the A-League but said it's hard to know what the top flight clubs want these days.
"Nick has been really bloody good for us, outstanding really, and he's still only a teenager," Cachia said.
"He's very athletic and quick and has the ability to go forward and create things.
"I've given up working out what people want [in the A-League] but everything is in place for him now, it just comes down to opinions.
"If there's somewhere that wants him and he's going to fit a role he'll get a go, he has every opportunity now.
"He forced his way into one of the biggest clubs in Canberra, so he has a real determination about him, he's a good kid."
Meanwhile, the Capital Football FFA Cup semi-finals are set after Woden-Weston dispatched the Monaro Panthers 4-2 on Thursday night.
League leaders Canberra FC will host Belconnen United at Deakin Stadium just one month after Canberra thrashed United 5-0 at the same venue.
In the second clash, Gungahlin United will host Woden-Weston. The only meeting between the teams this season finished in a 1-1 draw.
The victors will play for a spot in the FFA Cup round of 32 where they could draw an A-League team.
CANBERRA PREMIER LEAGUE ROUND NINE:
Saturday: Gungahlin United v Monaro Panthers at Gungahlin Enclosed, 3pm.
Saturday: Woden-Weston v Riverina Rhinos at Woden Park Enclosed, 3pm.
Saturday: Belconnen United v Cooma Tigers at McKellar Park, 5:30pm.
Sunday: Tuggeranong United v Canberra FC at Kambah, 3pm.
Eamonn Tiernan is a sports reporter with The Canberra Times