Canberra export Heather Reid was voted onto the Football Federation Australia board in a landslide victory on Monday.
Reid earned 90.78 votes at the FFA annual general meeting in Sydney and was one of four new board members elected. She is joined by Jospeh Carrozzi (75.56 votes), Chris Nikou (68.44 votes) and Remo Nogarotto (majority).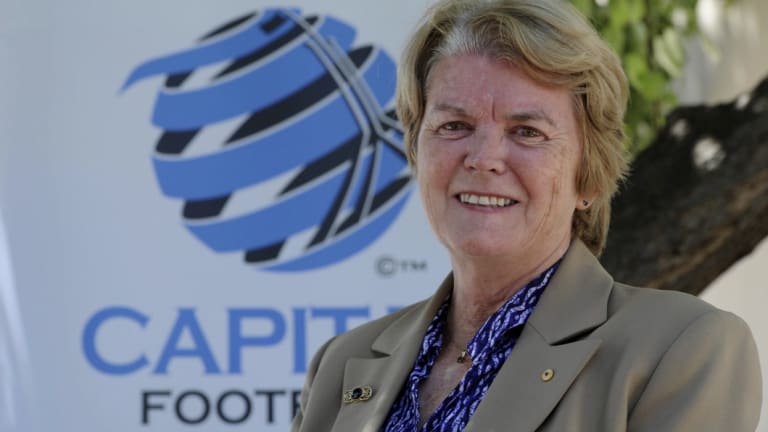 A trailblazer in women's soccer for more than 40 years, Reid was the first woman to be appointed as the head of a state football federation when she became Capital Football chief executive.
She stepped down two years ago and the Order of Australia recipient for commitment to football and gender equity in sport is highly regarded as an influential figure in Australian soccer.
"I'm particularly overwhelmed by the level of support," Reid said.
"A huge thanks and appreciation for the nomination by the PFA and Capital Football. There has been so much hard work done by so many people to get me over the line. You know who you are.
"I've got the sleeves rolled up and am ready for the hard work so let's begin."
Reid secured a seat at one of the most influential tables in Australia sport and the new-look board have some huge decisions to make as the FFA goes through sweeping governance changes.
Outgoing chairman Steve Lowy oversaw the meeting before stepping down and was joined by four of his directors after they failed block FIFA-mandated reform of the federation's congress.
The new board members were selected from nine candidates and voted in by the new congress, which is made up of state federations (55 per cent of votes), professional clubs (28 per cent), players (seven per cent) and a women's council (10 per cent).
Before voting commenced, parties were reminded of a recommendation in the FFA constitution which states the board adopt a 40-40-20 rule. It means 40 per cent of the board should be male, 40 per cent female and 20 per cent either.
Reid joins Kelly Bayer Rosmarin as the only women currently on the six-person board. Linda Norquay nominated and was not elected but up to three more members can be appointed by the board. Nikou will lead the FFA board with Reid appointed as deputy.
Reid will serve a three-year term and the board's first order of business will be to decide which two of six remaining A-League expansion bids will join the competition in either 2019-20 or 2020-21.
It is understood Canberra is a frontrunner alongside a Sydney and Melbourne bid but Reid has said she wants to be sure of their sustainability before supporting her former home town.
Reid and the board will also oversee a new operating model for the A-League and decided whether a national second division is viable.
Lowy didn't miss in his final address and took aim at several of his critics before warning the new board will "confront very, very difficult choices in the allocation of finite resources to infinite stakeholder objectives".
But he threw his support behind the likes of Reid who has extensive playing and administration experience.
"I hear the argument that is fashionable at the moment that there must be more football people and fewer suits represented on the board," Lowy said.
"It is a nonsense argument which is hopelessly superficial and naive. And it is typically advocated by people who have had no board or management experience at this level or the heavy responsibility that goes with it.
"Football is about passion. We all get that. Those of us in this room who have played it, lived and breathed it, know that. But passion is not enough.
"Football is also a serious business and it therefore demands skills and experience beyond just the game."
FFA board: Heather Reid, Jospeh Carrozzi, Chris Nikou, Remo Nogarotto, Kelly Bayer Rosmarin and Crispin Murray.
Eamonn Tiernan is a sports reporter with The Canberra Times