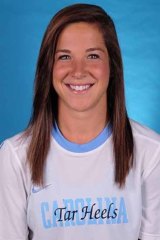 Canberra United have made their final signing this summer with American Paige Nielsen joining the club on Tuesday.
Nielsen has signed from South Korean club Suwon WFC for her second stint in the W-League after playing with the Western Sydney Wanderers two years ago.
United coach Heather Garriock confirmed the 25-year-old midfielder is in the selection frame for Canberra's away clash against the Newcastle Jets on Saturday.
"Paige was one of the first recruits I went after, I knew she had her South Korean commitments but they've finished and she'll add a lot of leadership and be the backbone of our midfield," Garriock said.
"She's a winger who played at the University of North Carolina for one of the top coaches in the world [Anson Dorrence].
"He instils that winning mentality in the girls and work ethic and Paige has aspirations to play for the US national team one day, she will fit right in at Canberra United.
"She is a player willing to work hard and do the extras, she just spent two years in South Korea to critique her game, she is just very dedicated and an outstanding person."
Nielsen has seen United play this season and said they share a similar style to her university side.
"After speaking to Heather, I knew her soccer brain and mindset matched mine as a player," Nielsen said.
"I've seen videos of Heather playing and chatting to her it is clear she has the same mentality as my program at UNC did.
"She knows how to win, and I love playing the style of football that Heather is using at United and it is what I am most comfortable with.
"I have seen the training grounds and understood the playing mentality. I can't wait to start a new journey with a team that has an enormous amount of potential."
W-LEAGUE ROUND THREE
Saturday: Canberra United v Newcastle Jets at Newcastle Stadium, 7:30pm.
Eamonn Tiernan is a sports reporter with The Canberra Times