Canberra United striker Rhoda Mulaudzi has revealed her royal roots and the South African star even dubbed McKellar Park her Australian castle.
Mulaudzi's grandfather was the king of the Venda people, who are from the Limpopo province near the South African-Zimbabwe border.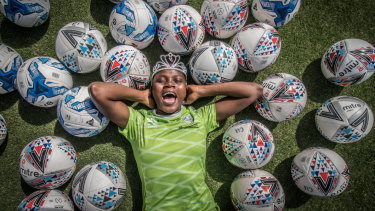 The 29-year-old princess will complete her first season in the W-League when Canberra host minor premiers Melbourne Victory in their final game on Tuesday.
Mulaudzi only arrived at United after a crazed fan repeatedly sent YouTube highlights of her, and fellow South African national teammate Refiloe Jane, to coach Heather Garriock.
Canberra resurrected Mulaudzi's international career this summer with the crafty No. 9 earning a recall following an 18-month hiatus. But her career almost never started.
Mulaudzi's mother wanted her to quit the game to focus on "royal duties", but she was allowed to keep playing thanks to the support of her father.
"When I was young, they tried to stop me from playing football, but I refused and told them I was not interested in royal duties," Mulaudzi said.
"My mum was not happy, but my dad is a football person, so he just said 'Whatever you decide I'll support you all the way'.
"The only thing I wanted to do was play football, and that's why I'm here because I had faith and believed in myself, one day I wanted to see myself playing for the national team and playing overseas, and here I am playing for Canberra United.
"Nothing was going to stop me from doing what I love. But now my mum is my No. 1 supporter, even more than my dad."
Mulaudzi admits she was nervous coming to the W-League but after a scintillating goal on debut, she knew she belonged at this level.
"I wasn't sure what to expect when I got here because there's a huge gap between the South African league and Australian league, this one is professional, and the competition is very high," Mulaudzi said.
"In the back of my mind, I told myself even if I can become our team's top goal-scorer that will be enough. Next season hopefully I can double up and do more because I feel like I have more to give, I know myself what kind of striker I am, and I can do more."
Mulaudzi scored all four of her goals this season at McKellar Park and she wants to give the Canberra fans one more reason to cheer on Tuesday.
"I want to finish on a high note, so I'm going to try my best to make sure all the supporters at McKellar Park leave happy by me giving them another goal," she said.
"It's so good playing in front of our supporters because the atmosphere is so beautiful. It is [my Australian castle] but also our slaughterhouse.
"I've really enjoyed myself here, and hopefully next season I'll come back and make sure I continue where I left off."
Some of Mulaudzi's teammates only found out she was royalty halfway through the season, but forward Nikki Flannery said it was the worst kept secret at the club.
"She said not to tell anyone but proceeded to tell everyone… it's not something I expected to do growing up [play alongside royalty], but it's pretty fun," Flannery said.
"It's an honour to be in her presence."
W-LEAGUE ROUND 14
Tuesday: Canberra United v Melbourne Victory at McKellar Park, 6pm.
Eamonn Tiernan is a sports reporter with The Canberra Times