HE CAME, he saw and he inspired a sellout crowd. People who had never even been to a football match before found their way to AAMI Park on Saturday afternoon. But he certainly did not conquer.
Alessandro Del Piero, on his first appearance in Melbourne, glided around the pitch, dropped his shoulders and offloaded some neat passes. He set up chances, teased with a couple of flighted free-kicks, made a late slalom-style run and provided a reference point for his team whenever it got into an attacking position. And he picked up a booking for his pains. But he couldn't win the game himself, especially against opposition of the calibre of Melbourne Victory.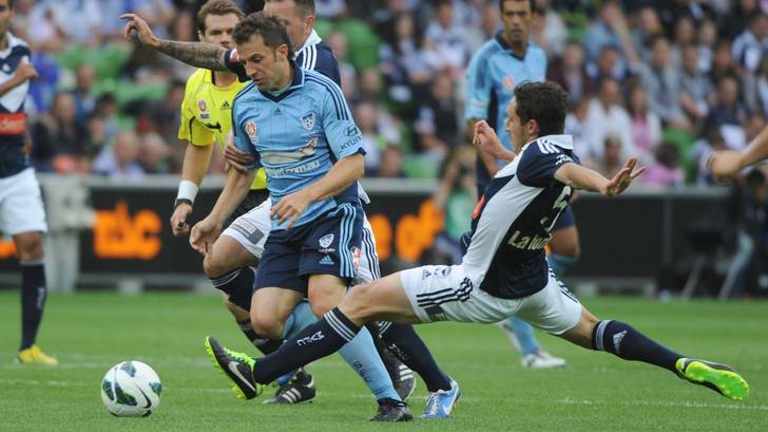 Marco Rojas's brace, one in each half, and Archie Thompson's second-half strike, sealed a 3-1 win for the hosts against a Sydney side who played the last half hour with 10 men after Tiago Calvano's dismissal.
Joel Griffiths's 74th-minute effort was merely a consolation for the visitors, who rarely looked a chance once they fell behind midway through the first half. Fabio's last-minute red card added insult to injury. Victory move to second on the ladder, five points behind Central Coast.
As Del Piero's influence has grown - and Frank Farina's no-nonsense management style has changed the culture - Sydney have improved. They came into this fixture having won two games in a row for the first time this season, headlined by that sweeping 7-1 triumph over Wellington last week. That was a match in which the great Italian hit four goals.
But the thought was always there that despite the Italian's guile, the threat offered by Griffiths, the quality of former Socceroo Jason Culina - happily on the comeback trail - and the experience of Brett Emerton, Victory would simply have too much verve and pace, too much exuberance and ingenuity in the forward third, even if their defence might prove shaky at times.
Many expected Ange Postecoglou to replicate his Brisbane side when he moved south, but he always said he wanted to build on his deeds in Queensland.
This team play to its strengths, which is not the endless possession and countless passes tactic he employed in Brisbane.
No, Victory's gifts are their pace and ability to strike fast and lethally on the break, using the flanks to create space for Rojas and Thompson, in particular.
It resembles a turbo-charged version of Ernie Merrick's championship-winning teams, who struck hard, fast and often used Thompson and Danny Allsopp in key forward roles.
Rojas brings a sweetness of technique and touch that the more muscular Allsopp lacked, while Thompson remains simply Thompson, dangerous when he gets the ball. The big difference this time is Postecoglou uses width where Merrick preferred a central approach.
That's not to say Sydney were not in this game. Before Rojas opened the scoring in the 24th minute, they had reason to hope they might get something from this visit, but losing Emerton early to a hamstring injury had an impact Sydney were not expecting, forcing Farina to throw the inexperienced Blake Powell into the fray.
The goal, when it came, had an element of fortune, but was deserved. Adama Traore won possession in his half, advanced down the wing and fed Rojas, who ran at pace towards goal before offloading a shot which deflected off Seb Ryall and beyond Vedran Janjetovic.
At the other end, Powell had a shot saved and Fabio threatened with a good run, but Victory were comfortable at the back.
When Tiago was given his marching orders on the hour mark after catching Leigh Broxham - who made the most of the contact - Sydney's uphill task became a mountain they could not climb.
Michael Lynch, The Age's expert on soccer, has had extensive experience of high level journalism in the UK and Australia. Michael has covered the Socceroos through Asia, Europe and South America in their past three World Cup campaigns. He has also reported on Grands Prix and top class motor sport from Asia and Europe. He has won several national media awards for both sports and industry journalism.