Les Murray was at Sydney FC training. Which, under normal circumstances, would be like the Pope popping into a suburban parish to watch the local priest conduct holy communion.
But this was no normal training session. His Footballness was there to see the latest in a long line of "firsts" in the new life of Alessandro Del Piero - his first run in sky blue. So not even a facetious inquiry about how many points you were awarded in soccer if you scored a goal could wipe the smile from his face.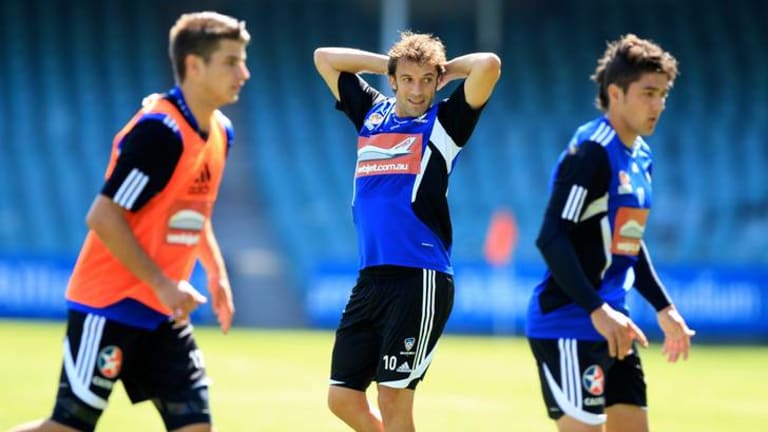 Fair enough, too. Regardless of the large crowds expected at ANZ Stadium on Friday and Saturday night for the native codes, you can't help enjoy the feel good factor Aussie Alex has given the rest of the world's game. No fans were allowed in to Allianz Stadium to watch the hamstring stretching, but a barrier was deemed necessary for the media - to keep them off the pitch, not to keep them from leaving.
Del Piero's reputation alone is sufficient to excite keen interest in the game. But, as had become apparent from his his previous "firsts" - successful landing on Australian soil, first press conference, first exclusive interview - the $4 million man is charming, charismatic and good humoured in a Beckhamesque way.
Of course, Beckham's charm waned somewhat when he opened his mouth and spoke in that squeaky, cartoonish voice. Despite the language barrier, Del Pietro seemed not to suffer from any communication problems. He has a smattering of English, as does Sydney FC coach Ian Crook, who was born in Essex. Goalkeeping coach Zeljko Kalac, who spent eight years in Italy, was on hand to fill in the gaps.
No doubt, the experts gleaned vital information about Del Piero's readiness for battle from the one hour session that was conducted largely, you suspect, for the benefit of the cameras. To the casual observer, a few things were obvious:
a) Aussie Alex looked sharp with the ball, but might not have been removing the cheese from his macaroni since his last matto lunedi at Juventus. There is fit, and there is "match fit";
b) Not even an Italian stallion could work a green fluoro training vest on a Milanese catwalk;
c) Some of the Sydney FC squad flirted, others acted nonchalant. But all seemed eager to impress.
Still, journalists who might normally have been filling their notebooks with news of Jason Culina's return from potentially career-ending knee surgery, or Brett Emerton's injury, were jumping out of their skins. Particularly the so-called reporter who dropped the traditional studied detachment and asked Del Piero to sign a shirt - which he did with his already customary good grace.
Coach Crook seemed in particularly good spirits having taken delivery of his prized import. Asked where Del Piero would play, he said: "We've had this discussion and he's happy to play in goals."
Which got a good laugh. Although, as Crook well knows, Del Piero could ask to spend the season operating the scoreboard and his wish would be Sydney FC's command. Even allowing for Crook's necessarily coach-like declarations that Aussie Alex was "one of 22 in the squad" and "if we succeed, we will succeed as a group".
Terry McFlynn, who will captain the famous Il Capitano was equally enthusiastic. "There was a real buzz around the dressing room," he said, this time not referring to an absence of Mortein.
Del Piero has come at an intriguing time for the A-League. His presence, and the appointment of new FFA chief executive David Gallop, will create enormous expectations. A competition that has made solid progress on the pitch, but not enough with the cash register, must now start to pay its way.
Then there is the faltering progress of the Socceroos. The defeat by Jordan in a World Cup qualifier raises obvious questions about the age of the squad's best players and, perhaps, whether the A-League will produce the next Kewell, Viduka or Neill, or the best youngsters are better to hone their skills abroad.
But, with Del Piero training with Sydney FC on a perfect spring day, it seemed churlish to think of tomorrow. The footballerati are right to revel in the great Italian's company. Pope Les will not be the only local deity to give Aussie Alex his blessing.

Richard Hinds is the Chief Sports Columnist for The Sydney Morning Herald
Morning & Afternoon Newsletter
Delivered Mon–Fri.