A NEW A-League season brings all kind of fresh hope for every team, but some things stay the same. Thankfully, at least for Sydney FC, Alessandro Del Piero is one of them.
This wasn't a barnstorming performance by the Sky Blues - not by any means - but that can be forgiven in round one. Sometimes you just need a result.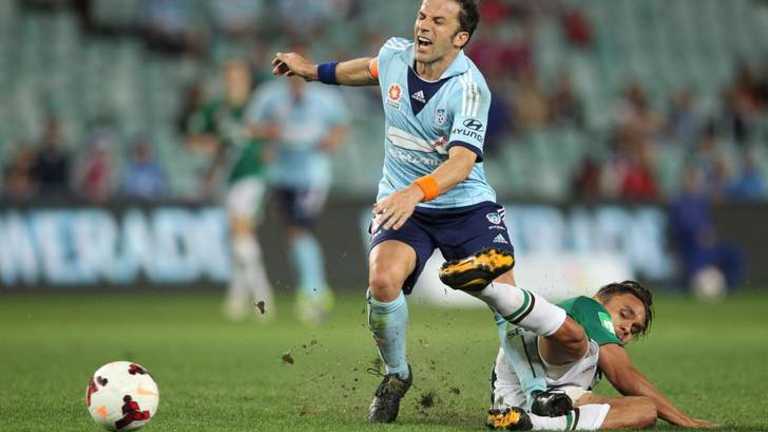 The 2-0 scoreline more accurately reflected the cold, hard fact that Sydney have Del Piero on their side and that Newcastle do not. Simple, but true. His two acts of genius made the difference. One goal and one assist; though it was hard to know which was more impressive.
The goal never nearly was, especially when he lost the ball after charging down the wing. But some calamitous defending from Zenon Caravella and Connor Chapman conspired to see the Italian regain possession, bamboozle Caravella and fire across Mark Brighitti.
The assist saw him again embarrass Caravella, picking his pocket in the middle of the park. Del Piero surged forward, drawing defenders, and laid it on a plate for Joel Chianese to fire home.
Those were probably Del Piero's only two acts of note (there were the usual tricks and flicks, of course) but they decided the game. That's what you pay $2 million per season for. He turns 39 next month but remains value for money.
The crowd that turned up - a tick over 20,000 - will feel they, too, got their money's worth. The match had a slow enough start but eventually picked up the pace towards half-time.
Whether Friday night football can work in this town is another matter, though plenty will have stayed home to watch the very first live A-League match on free-to-air. We won't know for a while how those broadcasts affect the gate, if at all.
It would be wrong to say Newcastle deserved to win, or even to take a share of the points, but they weren't disgraced. Missing Emile Heskey and Michael Bridges, coach Gary van Egmond picked a team loaded with pace and youth. Some of their passing was pleasing for the purists but lacked penetration. Their delivery into the final third was ordinary at best.
The ever-determined Ruben Zadkovich and half-fit Nathan Burns gave their all to unpick the Sydney defence but space was limited.
So deep did Nicky Carle and Matt Thompson - registered for Sydney barely two hours before the game - drop that there was nowhere to turn, except out wide.
This was a reasonable strategy by Sydney to let the game come to them. After all, both of their goals came from counter-attacks.
It seemed as though Frank Farina was coaching more for a result on the night and van Egmond was coaching with a nod towards how he wants his team to play in the future.
However, "Dutchy" won't want to get too particular about style if it doesn't yield points. His Jets missed the finals last year and an early win would have settled a few nerves. That's what this result has done for Farina and his players. It will imbue Seb Ryall and Nikola Petkovic with belief that their defensive partnership can work. Chianese will walk a little taller when he arrives at the recovery session. Ali Abbas will believe he can be more than a bench warmer. Richard Garcia will feel vindicated in his move north, for now at least. Then there's still Brett Emerton, Terry Antonis, Yairo Yau and Corey Gameiro to come back, each with his own qualities to add.
The Sky Blues are a confidence club, and they needed to start the season well. This showed they still need Del Piero, too.
Sebastian Hassett is a football reporter with The Sydney Morning Herald.