Canberra United is hoping the experience of playing against some of the world's best players will help lift it back to winning ways when it contests the International Women's Club Championship in Japan this week.
The reigning W-League champions flew to Tokyo on Monday night, two days after their first loss in 21 months has left them sitting in third spot on the ladder.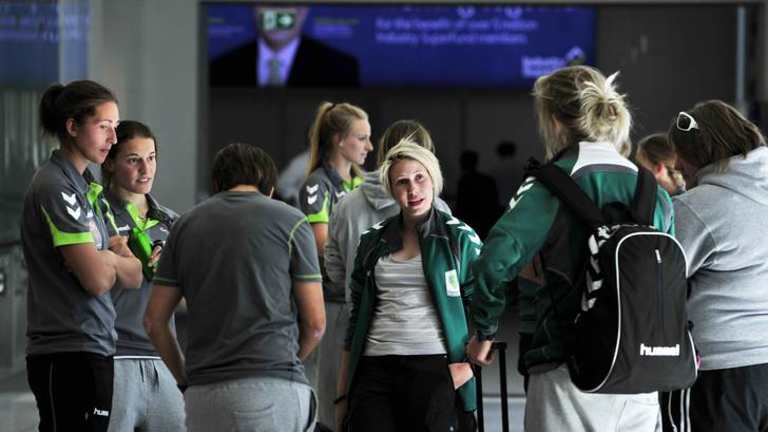 There is $US100,000 ($97,000) in prizemoney on offer, but any money will be a bonus for the team, which is excited by the footballing experience.
''I personally hope to play against [Homare] Sawa, one of the world players of the year, and see where my game's at up against her,'' United captain Ellie Brush said. ''As a team [I'm looking forward to] just a week of bonding, getting us back on track for the W-League and, obviously, hopefully playing some good football and getting great experience.''
Coach Jitka Klimkova was as excited as the players at the prospect of playing the world's best club teams and planned to spend part of the 10-hour flight watching video footage of their first opponent, Kobe Leonessa, which has seven players from Japan's World Cup-winning team, including striker Sawa.
French team Olympique Lyonnais is the other star-studded side in the four-team competition, a club Klimkova has marvelled at in action.
''I can't wait to play against Olympique Lyon,'' she said. ''I was in Munich when [they] played the [UEFA Champions League] finals against Frankfurt, with 50,000 people - that was an amazing game, and Olympique Lyon just smashed Frankfurt.''
Under no illusions as to what it will be up against, United is focusing on lifting its game to compete with the world's best.
''The goal isn't to win this tournament, the goal is to really try to do the best against these big teams from Europe and Japan. For us, we can compare where we are right now compared to the world top-level teams,'' Klimkova said.
''I'm 100 per cent sure [the team will lift], everyone has to put everything on the field during these games.''
United's most experienced international player, the two-time world cup winner, Ariane Hingst, agrees.
''Sometimes you need the challenge and you can really step up. You see very often you adapt to your opponents, the way they play, so it's going to be interesting and I think we're able to do that,'' she said.
''Our main focus is still the W-League and this is just a nice trip we're going to be having, a great experience, and we're going to learn a lot.''
THURSDAY
International Women's Club Championship: Game one: Canberra United v INAC Kobe Leonessa (Japan). Game two: NTV Beleza (Japan) v Olympique Lyonnais (France).
Both games at Urawa Komaba Stadium.