SOCCEROOS captain Lucas Neill has been offered a chance to resume his career in the A-League with Melbourne Heart - but Sydney FC coach Frank Farina hasn't ruled out making a late bid for his signature.
Neill, who turns 35 next month, has been without a club for the past few weeks after being released from his contract with Al Wasl in the United Arab Emirates.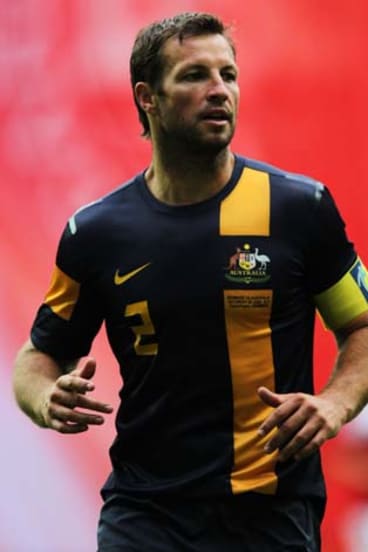 Neill's representatives have been busily offering the player around to A-League clubs in the hope one of them will sign him but strictly on the proviso that he will see first-team football in his preferred position of centre-half.
In a big incentive to prospective clubs, Football Federation Australia have offered to pay a significant portion of his wages outside the salary cap, paying him instead in a promotional capacity - just as they did for Sydney's signing of Brett Emerton and Melbourne Victory's acquisition Harry Kewell.
Socceroos coach Holger Osieck is thought to be extremely keen on having Neill find a club in the coming weeks, especially with the national team playing a crucial qualifier against Oman in Sydney next month.
Brisbane and Central Coast were interested in Neill but eventually backed away, leaving Melbourne Heart in pole position to claim his signature. His former Socceroos' teammate and close friend John Aloisi, who now coaches the Heart, said on Thursday there was every chance Neill would come on board.
''I had a chat to him a couple of days ago to see where he's at football-wise and what he wanted out of the rest of this season and he wants to play football,'' Aloisi said after Heart training. ''He wants to show he's still at a good level and that he wants to win games and we want to make finals.
''After speaking to him, he's watched quite a few games in the A-League and he could see what we're trying to do, he likes the way we're trying to play football.''
While Aloisi is only in his first season as an elite level manager, he's confident Neill sees eye-to-eye with him about his managerial style.
''As former teammates, he knows what I'm like as a person but he doesn't know what I'm like as a coach,'' Aloisi said. ''When I spoke to him I just told him what I would expect from my players and what I expect from the team and how we play, and he liked it. Now it's up to the club and up to Lucas.''
Despite concern about Neill's condition and whether he could stand the rigours of the A-League so late in the season, Aloisi said that was a non-issue.
''His fitness is good, he's been playing until recently, he played 60 minutes against Romania so fitness is not a problem,'' he said. ''He looks after himself physically and he's never really had any major issues, injury-wise, so he's a fit guy.''
If the deal can be done soon, there's a real chance Neill could make his debut against Sydney FC at AAMI Stadium next weekend.
''That's something I can't answer, it's for Lucas, his agent and the club to work out,'' Aloisi said. ''I said I'd like to have him and it's up to them to sort out.''
But it turns out Farina, just reappointed as Sydney coach for the next two seasons, wants to bring Neill back to his home town.
''If he can play in the A-League, that's fantastic and no club, including us, would rule out a Socceroos' captain,'' Farina said. ''I think there would be interest from most clubs in the A-League. It's important for him - and where the national team is at and where he is at - that he's playing. If that opportunity is in the A-League, I think he would jump at it.''
Farina was open to the idea of luring Neill away from the Heart. ''We haven't ruled it out,'' he said.
Morning & Afternoon Newsletter
Delivered Mon–Fri.