Michelle Heyman started the W-League season as the holder of the Golden Boot and the public face of Canberra United after their undefeated season, thanks greatly to her 15 goals and uncanny ability to find the back of the net.
But with two regular games left in the season and finals on the line, the usually prolific scorer has just one goal to her name.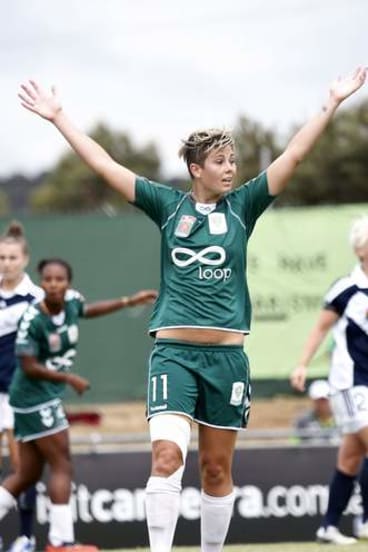 It is a startling statistic not lost on the 24-year old, who claimed two golden boots in the league's first four seasons, but has not scored since United's round two 5-0 thrashing of the Newcastle Jets.
Heyman admits her preparation for the season wasn't perfect, and has struggled with injury.
"I wasn't fully fit for the start of pre-season and the second round I hurt my knee … we're still not 100 per cent sure what's actually wrong with me, so we're trying to deal with the pain until the end of the season and see what happens from there," she said.
The extra attention from opposition hasn't helped, and changes in United's midfield with the loss of import Taryn Hemmings and limited minutes of Sally Shipard meant a change in role for Heyman.
"I was starting to get a little bit frustrated at the start of the season just because I wouldn't be getting the best opportunities to score,'' she said. "I've assisted a couple of the goals that have been scored, but yeah I just can't get it in myself."
It's a point of annoyance for Heyman.
"Everyone pretty much calls me the unluckiest player in our team this year," she said. "I'm getting in good scoring opportunities, but everyone's just saving everything that I'm shooting."
While coach Jitka Klimkova is crossing her fingers Heyman can break her drought when they play Western Sydney Saturday, as the coach she is happy with the "very important" role Heyman is playing for the team as long as others are scoring.
"I think she feels the pressure because she has these questions a lot - what is going on with you, just one goal compared with the previous seasons … so there is pressure on her, [but] not from my side," Klimkova said. "It's a period of her career in football - last season she touched the ball and it went in the net, really this time it's not so lucky. But Michelle is a little bit different player for us this season, she really helps with defence phase and she creates a lot of chances for others," she said.
Heyman, who claims to be "the worst defender ever," says her improvement in that field as she pushes back into the midfield more has made her a better player, but she's still itching to score.
"My number one job is to score goals and that's what I go out to do, so I think I just need to get my confidence back up and just have some fun, play the sport that I love."
Morning & Afternoon Newsletter
Delivered Mon–Fri.