She's the apprentice signwriter who has moved to Canberra to put her name up in lights in the W-League.
Refreshed after having a year off travelling around Europe, midfielder Holly Houston has put her signwriting career on hold to have one last crack at the national competition with Canberra United.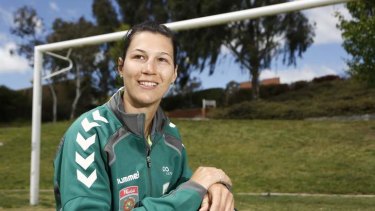 Houston, 24, could have been excused for thinking her chance of playing in the W-League had passed her by. But a recommendation from United assistant coach Raeanne Dower led to her earning a trial and winning the final spot on the roster.
Dower can vouch for the skills Houston brings to the pitch, having coached her in Queensland junior and senior representative teams and for Redlands United in the Brisbane club competition.
''It was an opportunity I wouldn't get again if I didn't take it,'' Houston said. ''It's something I've been wanting to do for a while.
''I thought five months out of my life isn't a big deal and I've got the rest of my life to work, so why not give it a crack.''
Training four days a week and playing alongside Matildas and US internationals is a far cry from last year, when Houston travelled around Europe.
An impressive return season with Redlands led to her receiving an invitation to trial once Dower joined Liesbeth Migchelsen's coaching staff at United.
''Rae had been in talks with Canberra and then told me they wanted me to come down and trial,'' Houston said.
''It was a shock, but a welcome shock. There was a couple people trialling and there was only one position left on the squad, so it was a 50-50 chance. I had nothing to lose and everything to gain.''
Houston can play anywhere in the midfield and has a knack of putting the ball into the back of the net. Dower believed Houston would be capable of making the step-up to the W-League.
''What people will see is someone who has a lot of pace and can certainly score goals and get on the end of crosses with her height,'' Dower said.
''She's a very busy and smart player. She's playing her best football of her career this year and deserved an opportunity to break into the next level.''
United begins its W-League season away to Brisbane Roar on November 9.
Lee Gaskin is a sports reporter at The Canberra Times.