Canberra A-League bid officials have thrown their weight behind a new stadium in the capital, revealing a proposed $350 million indoor venue will be a part of their campaign to secure an expansion licence.
The bid team is also tapping into relationships with overseas clubs in Scotland, England and Spain as ONTHEGO duo Mick Spencer and Michael Caggiano help drive the expression of interest campaign.
The A-League for Canberra proposal will be submitted to the FFA in nine days when bid officials finalise a 100-page document detailing why the capital should join the competition.
A successful bid for an A-League team would be a massive boost for delayed plans for a new stadium in Civic after ACT Chief Minister Andrew Barr said last year soccer content was crucial to the business model.
The desperate need for a new stadium or knock-down rebuild of Canberra Stadium has been thrown back on the ACT government's radar after both ACT Brumbies and Canberra Raiders crowds dipped.
Average crowds for both teams have fallen this year, and cold weather and frustrating rugby led to just 5000 fans watching the Brumbies last week.
"Andrew Barr has said a new stadium needs an A-League team to close the deal on a stadium for year-round usage," Caggiano said.
"One of the benefits of the A-League is that it's in summer so it means a stadium is going to be used for 12 months of the year in Canberra and gives fans a sport to follow in that summer period.
"To close the deal for a purpose-built stadium in the city, you need that A-League content."
The government is waiting for the Australian Sports Commission to detail a national sport plan in the coming weeks, which is set to include a decision on the future of Canberra Stadium.
The Brumbies and the Canberra Raiders are keen for a new stadium in Civic to be fast-tracked as Canberra Stadium falls further and further behind venues around Australia.
Barr toured stadia in New Zealand, Singapore and in the United States almost a decade ago after flagging Canberra's need for an indoor venue to boost crowd numbers.
But the project has been delayed by the costs of the Mr Fluffy loose fill asbestos clean up and uncertainty surrounding the sports commission's land at Bruce.
Canberra's A-League bid - led by businessman Jeff Williamson - has been watching the stadium developments closely as they work on the final stages of their submission for a licence.
Canberra officials will meet with Deloitte at the end of the week after the FFA enlisted the firm to be lead advisors on the expansion process.
The expression of interest period will end on May 24 and the Canberra bid must detail its vision, what stadium and venues will be used, financial capacity and who is involved.
Fairfax Media understands the Canberra bid will include Canberra Stadium as an existing location as well as plans for a $350 million stadium in the city as a potential future home ground.
The FFA will shortlist applicants in June before entering the final stages of submissions, with an announcement on the successful bids to be made by October 31.
Entrepreneur and ONTHEGO Founder Spencer is part of the Canberra process as well as chief commercial officer Caggiano.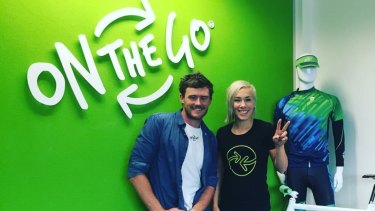 ONTHEGO has done deals with Sheffield Wednesday, Celtic and clubs across Europe, opening the door for contact with existing soccer giants and an ability to tap into their knowledge base.
"It's about having an existing business that already operates heavily in digital marketing, data analysis and sports marketing," Spencer said.
"We've got that existing base there to be able to support that and there aren't many businesses in Canberra that have that."
Caggiano added: "One of the key criteria for the FFA is experience in football operations ... that football network [at ONTHEGO], Europe is way ahead of everyone else. Who better to learn off than the best."
Part of the Canberra A-League proposal will also include a community ownership model, which is based on the "50 plus one" used in the Bundesliga in Germany. The model is designed to give clubs and fans majority rights, with commerical investors allowed only a 49 per cent stake.
"We've built up a lot of really strong networks in Asia with our manufacturing partners ... it's all about how do we make Canberra to the rest of the world what we all know it is," Spencer said.
Chris Dutton is the sports editor at The Canberra Times.