Melbourne Heart coach John Aloisi's strategy of signing superannuated Socceroos is proving either misguided or simply cursed.
Last year, Aloisi signed ex-international midfielder Vince Grella to add bite to the club's midfield, but he played barely 20 minutes before being forced to retire.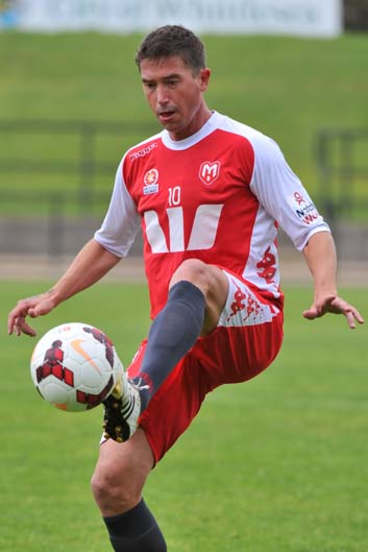 Undeterred, Aloisi took the plunge and signed another former teammate, the equally injury-prone Harry Kewell, and made him club captain for this season.
Kewell has played only once – in the opening scoreless draw against Melbourne Victory – and is now back on the treatment table after being forced to withdraw from Friday night's game against the Western Sydney Wanderers – the fixture in which he was expected to resume his stuttering A-League career.
Kewell injured his ankle in the dying minutes of a training session on Wednesday and will be out for up to a fortnight.
It is a big blow for Heart, as he looked sharp and provided a creative fulcrum in that match against Victory.
For Aloisi, signing Kewell was always a calculated gamble. He had barely played in the preceding 18 months and has always been susceptible to injury.
His absence has been compounded by the loss of key midfielder Orlando Engelaar.
Coaches are judged by the gambles they make in the transfer market and the results they get on the field, and at the moment the second-season Heart boss badly needs to find a winner.
Kewell had earlier defended his decision to play golf after being ruled out of Heart's away loss to Brisbane last weekend, saying there was nothing improper in what he did.
"I felt I was fully fit. I wanted to play [against Brisbane]. It was a decision by my manager, which I respected," he said.
"OK, I went out and swung a club. What's the harm in that?"
knows the only way of fulfilling his dream of playing in a third World Cup is by looking no further than his Melbourne Heart commitments and making a good impression on Socceroos coach Ange Postecoglou.
"The decision is down to the coach. My only thing I have to worry about is playing well for Melbourne Heart," he said. "If I do that, I believe I've got a chance, like everyone else. Everyone's going on about playing for Australia – you've got to play well for your club to have a chance."
Kewell hasn't played for the Socceroos since February last year. He likened the struggling Heart to the Wanderers as they seek to make a greater impression on the A-League. "This club's thriving and is on the brink of doing something special. and I want to be part of that."
The Socceroos play Costa Rica in Sydney on November 19.
With aap
Michael Lynch, The Age's expert on soccer, has had extensive experience of high level journalism in the UK and Australia. Michael has covered the Socceroos through Asia, Europe and South America in their past three World Cup campaigns. He has also reported on Grands Prix and top class motor sport from Asia and Europe. He has won several national media awards for both sports and industry journalism.