Canberra United came ever so close to claiming third place in the International Women's Club Championship in Japan on Sunday, but a goal in injury time to Japanese club NTV Beleza shattered the dream ending for United, losing 4-3.
Having lost 4-0 to Japanese powerhouse Kobe Leonessa, United was left to play Japanese Cup champion NTV Beleza in the play-off for third place and US$10,000 (AU$9560) in prizemoney.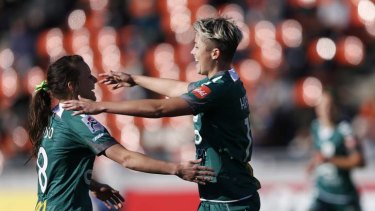 But even without injured German international Ariane Hingst for the clash, United started with confidence.
Midfielder Jennifer Bissett picked the world stage to score her first goal in 32 appearances for Canberra United to give the visitors the lead in the seventh minute.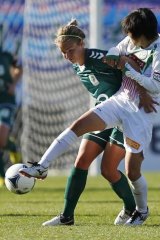 Minutes later, Japan international and team captain Azusa Iwashimizu scored the equaliser, but United went up again in the 25th minute when Sally Shipard put a ball through to Michelle Heyman who found the back of the net.
Kanako Ito levelled the score before the break, then a great save from goalkeeper Trudy Burke ensured NTV Beleza didn't get ahead.
In the second half it was again United who struck first, youngster Hayley Raso scoring the second goal of her Canberra career in the 56th minute.
United held its lead for 22 minutes until Asano Nagasato found another equaliser in the 78th minute and when Heyman missed wide in the 87th minute, the game looked like it was heading to extra-time.
Then in the first minute of injury time, it was Iwashimizu who broke the hearts of United, scoring her second for the match after a goal-mouth scramble to put her side in front for the first time of the match.
In Sunday night's competition final, French powerhouse Olympique Lyonnaise triumphed 2-1 over Kobe Leonessa in extra-time to take out the $US60,000 ($AU57,380) first prize.
United returns home on Tuesday and will face Sydney FC in the W-League on Saturday as it looks to improve from sixth position on the ladder.