FULL-TIME: A hard fought draw in a game where both teams made strong claims that they deserved a win. Japan may rue a number of referee decisions but they will surely be pleased to take a point from an away trip to Australia. A resilient display by the Socceroos old guard proved that for now, they still have the legs to keep up with Asia's best.
Australia 1-1 Japan in an action packed game in Brisbane. The Socceroos played much of the second half with only ten men and while they salvaged a draw through a penalty, it was no less than they deserved. A brave performance by the Socceroos and an impressive result against a fantastic Japanese team.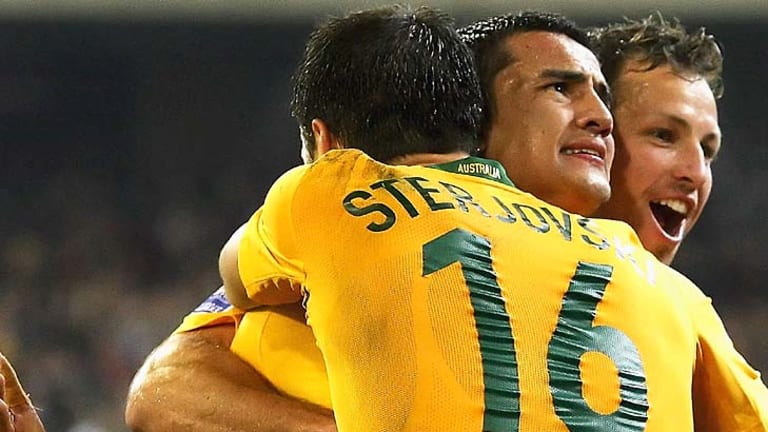 94th min: Tim Cahill ruled to have clipped the ankle of Honda only metres away from Australia's box. Japan are given a free kick in another great position but the referee ends the game before Honda can take the set piece. FULL-TIME.

92nd min: Japan and Australia both make lake changes. Robbie Kruse on for Luke Wilkshire and Masahiko Inoha on for Shinji Kagawa.

91st min: Luke Wilkshire nearly gives Australia the lead with a brilliant long range free kick. Kawashima just manages to palm the ball wide of goal.
90th min: RED CARD. Japan are now reduced to ten men. Kurihara is given his second yellow for a clumsy challenge. He can have no arguments about that decision.

88th min: Japan have a great chance with a free kick from the edge of the box but Endo sends the ball high of the goal.
85th min: Okozaki puts in a cross to an unmarked teammate at the far post but Mark Schwarzer plucks the ball out of the air to deny Japan a second goal.
83rd min: A quick one-two by Japan creates some space on the edge of the box, but the shot rebounds of Australia's defence and immediately the Socceroos go on the counter. Honda ends the attack and earns himself a yellow card after fouling Tim Cahill.

80th min: Shinji Kagawa escapes Lucas Neill in the box but shoots straight into the arms of Mark Schwarzer. Still 1-1

78th min: Sasa Ognenovski sends his header crashing off the cross bar. Australia nearly stealing all three points.

77th min: David Carney hits a long range free kick that is touched behind for a corner. Can the Socceroos now pull three points out of the hat?

75th min: That goal has rattled the visitors. Japan had been dictating the game up until that moment but are now struggling to replicate their quick attack from earlier in the half.

70th min: GOAL. Luke Wilkshire does the job from the spot to level the score. 1-1
69th min: PENALTY. Australia has been awarded a penalty after Uchida judged to be holding the shirt of an Australian forward.

65th min: GOAL JAPAN. Yuzo Kurihara scores a goal that had been coming for a long time. Keisuke Honda danced through Australia's defence before sending a low cross across the goal line. Kurihara finds the net with a simple finish.
63rd min: Japan are relentlessly attacking Australia's goal and the Socceroos are only given a respite through a scuffled clearance. Osieck now makes his change, Rukavytsya on for Matt McKay.

61st min: Australia are on the ropes here. If they were stretched with eleven men, they are hanging on for dear life with only ten. Osieck is about to make his second change by bringing on Nikita Rukavystya.
60th min: Japan defender Uchida made a diving header to clear the ball, in turn getting the way of Mark Milligan who was lining up a volley from the edge of the box. An accidental foul but perhaps a second yellow card was a harsh decision.

57th min: RED CARD. Mark Milligan is given his marching orders after receiving his second yellow card. Milligan accidently kicked into a Japanese defender after mistiming a volley.

55th min: Japan are playing a much more expansive game now and amounting pressure on Australia's two wide defenders, David Carney and Jade North. A stretched Socceroos defence is struggling to contain Japan.

52nd min: The Referee takes his time to let Japan take the free. Honda eventually takes the free kick but can't find his way around the wall. still 0-0

51st min: Lucas Neill concedes a foul outside the box after mistiming a tackle against Keisuke Honda. Japan have a free kick in a dangerous position.
48th min: Luke Wilkshire drives in a low cross that Japan's central defenders struggle to contain. Socceroos scuffle a shot through a packed box but it fails to test Kawashima.

46th min: Both sides are back out and no changes have been made by either coaches.

Half-time: Jade North often bears the brunt of criticism for Australia's, at times, slow defence, but this is one of his best performances in the green & gold. Brosque and Cahill are displaying a great understanding up front with complementing styles of play and may emerge as the strike pair that Osieck will continue to use throughout the qualifiers.

Both teams have created seven chances each but neither have found the finishing touch. Australia started the brighter and have had the better of the opportunities but on each occasion, Japan's goalkeeper Kawashima has been equal to the task. Bresciano's injury may have hampered the Socceroo's creativity, but they have still created sufficient chances. Japan failed to exert their fluent attack early on but are begining to find their rhythm.
45th min: Australia nearly concede a goal late in the half. Japan again find space in the box but couldn't fire a shot on target. Claims for a hand ball were instantly waved away by the referee. Australia clears the ball and the referee signals the end of the half with both sides scoreless.
43rd min: A great surging counter attack by Japan down their right flank. Uchida finds himself with space in the box but fires over the bar. 0-0

39th min: Australia's midfield is now sitting quite deep in their own half. It seems that that with 7 minutes remaining, the Socceroos may be content to contain Japan until the break.
36th min: Japan are beginning to find some space in behind the Australian backline. Kagawa is starting to show Brisbane why Manchester United opened their cheque book to sign him. Somehow, we're still scoreloss here.
33rd min: Shinji Kagawa unlocks the Austarlia defence but there's nobody in the box to finish the cross.

30th min: Tim Cahill nearly puts David Carney through on goal with a creative flick on that just eluded the Bunyodkor winger.

25th min: Mark Milligan earns himself a yellow card for a late tackle to shut down a quick Japanese counter attack. Keisuke Honda fires wide of the goal from the resulting free-kick.

22nd min: Yellow card for Yuzo Kurihawa for a shirt pull on Tim Cahill.

19th min: Lucas Neill and Tim Cahill both beat the keeper but weredenied by two defenders on the line. The Australian captain chipped Kawashima and Cahill's follow up was cleared off the goal line.

15th min: Matt McKay latched onto a deep cross from Luke Wilkshire and headed down to Tim Cahill infront of goal, only to be ruled offside.

14th min: Substitution for Australia, Milligan on for Bresciano who has been forced off with what looks like a soft tissue injury. Australia 0-0 Japan
11th min: Mark Bresciano has come off the pitch with an injury. Mark Milligan has taken off his tracksuit to replace Bresciano. A big blow for the Socceroos early on.
6th min: Australia is compounding the pressure early on and nearly found the opener through Alex Brosque and then Luke Wilkshire. Brosque cut through the middle and with only the goalkeeper to beat, fired straight into Kawashima. Wilkshire latched onto the rebound but again Kawashima forced the ball wide of goal.
5th min: Carl Valeri with a fierce drive from the edge of the box that narrowly tips over the bar. Great build up play by Mark Bresciano to set up Valeri with the chance.
1st min: Japan could only clear a lofty cross as far as the edge of the box to David Carney, who sliced his shot of the side of his left boot and sent the ball well wide of the goal.
Pre-amble: A roar from a packed suncorp stadium follows the anthems, the players shake hands, team photos are over and we're under way.

Socceroos' coach Holger Osieck has made the surprising choice to omit giant striker Josh Kennedy from the starting lineup. The target man has a great goal scoring ratio in the J-League as well as a knack of being in the right place at the right time for Australia. In his absence, the Socceroos looked slightly directionless in attack in last week's game against Oman.
Japan has kept the same midfield and attack from their 6-0 hiding of Jordan last weekend. Manchester United's latest signing, Shinji Kagawa, will sit in the hole behind lone striker Ryochi Maeda and while they may be outnumbered by Australia's defence, the movement of all three attacking mids will cause problems for Australia's backline and deep sitting midfielders. Keep an eye on the match up between Australia's defensive midfielder Carl Valeri and Kagawa.

Holger Osieck has made only one change from the stalemate in Oman, bringing in Everton striker Tim Cahill for Harry Kewell. In the face of the fast paced Japanese team, Australian fans have called for a younger squad to be deployed and the German tactician has responded by bringing on the 32 year-old Cahill for the 33 year-old Kewell. There may also be injury concerns for Cahill but Osieck has chosen to take the gamble with a player who has already scored three goals against Japan.
Join Dominic Bossi from 7.30pm as the Socceroos host Japan at Suncorp Stadium in a crucial World Cup qualifier. Victory for Japan will just about guarantee the Blue Samurai a place in Brazil for 2014 and leave Australia with work to do.
Socceroos (4-4-2): Schwarzer, Neill, Ognenovski, Wilkshire, North, Carney, Valeri, McKay, Bresciano, Brosque, Cahill
Japan (4-2-3-1): Kawashima, Honda, Nagatomo, Uchida, Endo, Okazaki, Kagawa, Konno, Kurihara, Hasebe, Maeda
Morning & Afternoon Newsletter
Delivered Mon–Fri.