NOT since making his professional football debut 16 years ago has Sydney FC's Jason Culina been this anxious to play a game of football.
The former Socceroo will finally end his two-year injury nightmare on Friday night against Adelaide United. He feared he would never play again after a suffering a serious knee injury in January last year but will make an emotional return to the playing field in his first A-League game for the club. Culina is set to start the match on the bench, and is overwhelmed by nerves, excitement and anticipation that have brought back memories of his first professional game as a 16-year-old with Sydney United.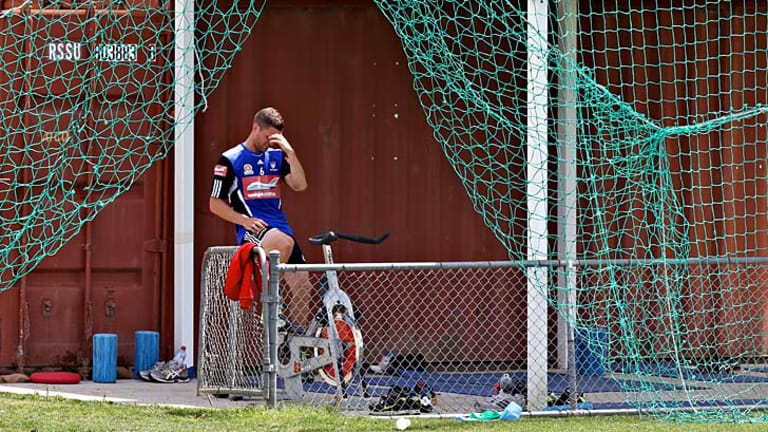 ''[I felt like this] probably when I was 16 years old starting out. When you miss almost two years of football, all those nerves do come back, and I'm sure I'll be nervous tomorrow, but once I step over that white line, I think it's just instinct [that] kicks back in,'' Culina said. ''I'm just excited. I've dreamt about this for the past two years.''
The 32-year-old underwent two operations, including a knee osteotomy that involved breaking a bone to realign his left leg, and he contemplated an early retirement.
Culina had to learn how to walk and run again after his second operation forced him to readjust his style of movement. He admits that it would have been easier to hang up his boots but life away from the game was a more daunting prospect than the long road back to the pitch.
''I had absolutely nothing else that I could possibly do,'' he said. ''Football is the one thing I love, and I've done it since I was 16 years old. You grow accustomed to doing one thing, and once that gets taken away from you and you're left with nothing, it puts a lot of doubt in your head. For me there was one thing and only one thing only and that was to keep playing again. I love the game too much to give it up, and I'm still too young.''
Culina last played A-League football in December 2010 with Gold Coast United, and was sensationally axed by Newcastle Jets last year when the full extent of his injury became known. The 22-month absence from the game was the most painful period of his career, and he admits that it placed a significant amount of stress on he and his family. Although he believes the experience has made him more resolute.
''I'm a strong character, people keep telling you that you're a strong character to come back from something like this, and that's probably something I've learnt, that I don't give up too easily,'' he said. ''People think that Jason Culina gives up or is not motivated, then they're wrong because I believe in myself, I believe in what I do, and I think that's made me a stronger person over the last two years.''
Culina's return is a timely boost for the bottom of the table Sky Blues as they prepare to take on the league leaders, Adelaide. Sydney FC's caretaker coach, Steve Corica, says that Culina will bring much-needed leadership to the squad that will help ease their ball-retention woes.
''He gives you leadership, he's very good on the ball. I think that's something we're lacking with leadership and when we're struggling to keep the ball,'' Corica said.
Sydney FC have conceded 14 goals in three successive losses and have come under fire for their defensive lapses. There are nerves surrounding Culina's first professional game in 22 months but he said he was not feeling the burden of expectation for the club to turn their season around, and believed the Sky Blues would find confidence through labour.
''Gradually we're going to get better and better, and we're working really hard,'' he said. ''I know it's cliche, 'working hard', but yes, when things aren't going well the best way to get out of it is to work hard, and gradually those things will come back to us and it will be second nature.''
Morning & Afternoon Newsletter
Delivered Mon–Fri.