Interim Roar coach Mike Mulvey says Brisbane's A-League season and title defence are far from over.
After completing his first training session on Wednesday morning after replacing Rado Vidosic 11 games into the season, Mulvey said the Roar - who currently sit second-last on the table - could still contest the finals.
"Why not?" he said.
"Watch this space.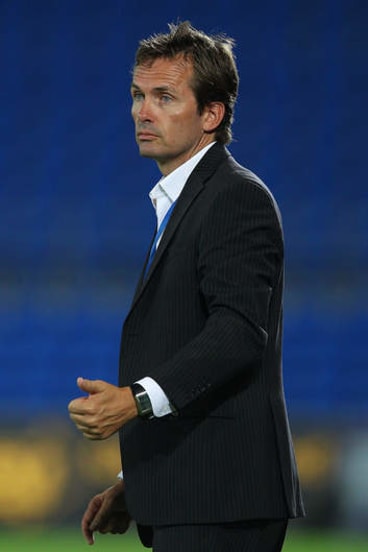 "What I know is these guys are winners.
"I've really admired from afar what they achieved in the last couple of years.
"They just need to rediscover the hunger, how to get the kill again, whatever it takes, we'll find a way.
"One thing I am determined to do is not only uphold the philosophy of the club to play a certain style but to build on it."
He said there was an opportunity for the Roar players to "light up the field" against Perth on Friday night.
Mulvey took the reins of an A-League club in similar fashion last season when Miron Bleiberg stepped down at now-defunct Gold Coast United.
He said he always coveted the Brisbane coaching job.
"There's only nine coaching jobs in Australia and the sad fact is if you're not in a job with one of them, you're waiting for a colleague or one of your peers to fall," he said.
"Football is a funny beast and I've been on record as saying I wouldn't take any job when I left the Gold Coast, I wanted a job that fitted what I believe in and this is a perfect fit."
Mulvey's first task will be to instil the hunger in the two-time defending champions, who have managed only three wins from 11 games since Vidosic replaced Ange Postecoglou in the hot seat.
Roar management consulted the team's senior group of players head by captain Matt Smith about the change before announcing Vidosic was being replaced.
Mulvey said after training he felt the team was just "one or two degrees off".
"The players are hurting with the position they are in at the moment but we're not going to concentrate on that," he said.
"I know it's a cliche and it's not what you guys like to hear but we'll focus on Friday's game against Perth and take it one game at a time.
"I've seen a training session and there's no doubt in my mind these boys are committed."
Mulvey's first match in charge will be Friday's grand final rematch against Perth Glory.
And he may be without star striker Besart Berisha, who remains in doubt with a shoulder injury.
Winger Dong-Hyun Do also went down at training with what appeared to be a knee injury.
AAP
Morning & Afternoon Newsletter
Delivered Mon–Fri.