A UK initiative set up to help former Premier League stars who have fallen on hard times is joining forces with an Australian organisation to educate players of the issues they'll face at the end of their careers.
Former Arsenal, Manchester City and Sunderland striker Niall Quinn is behind Catch A Falling Star, which is linking with Sydney-based Crossing The Line, who specialise in athlete welfare.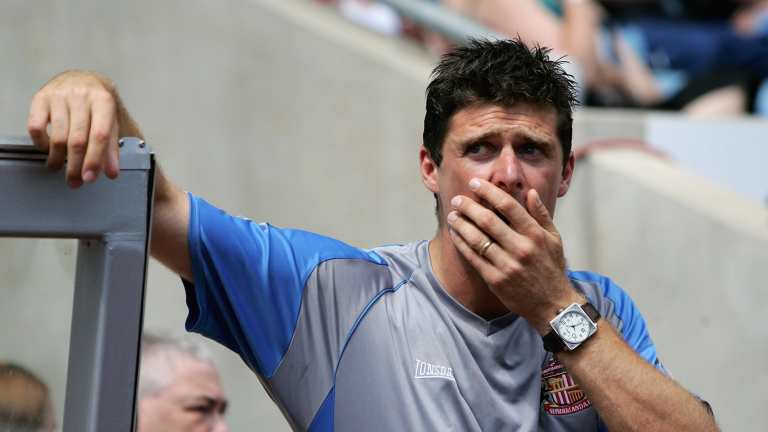 Quinn played in two World Cups and over 90 times for the Republic of Ireland and last week admitted to suffering from depression after his retirement in 2002.
The 49-year-old said he was deeply concerned at the problems experienced by the likes of former Socceroos skipper Lucas Neill, who was declared bankrupt last month despite earning several million dollars in a career spanning almost 20 years.
A hearing will take place on June 9 to determine how much Neill owes his UK creditors and although Quinn acknowledges it's hard for the public to feel sympathy for former superstars, he said there needs to be more awareness of the difficulties athletes face when they transition to normal life.
"We build up our stars and pour adulation but somewhere along their fall from the top, a certain percentage of them lose more than just their career," Quinn told AAP.
"They lose their whole infrastructure, often close family, the divorce rate for retiring footballers is ridiculously high with one in three players splitting from their wives within two years of quitting.
"Depression is a serious issue and almost half of players who've played in the Premier League are likely to experience bankruptcy.
"Lucas has been part of a system that is like a washing machine of fun and then you get spat out at the end out at the end of it and it can be tough."
Quinn met Crossing The Line's Gearoid Towey, an Irish Olympic rower who's now employed by Western Sydney Wanderers as a player development advisor, and sports psychologist Gayelene Clews, a former international triathlete who works with the Australian Olympic team, in Dublin last week.
"Gayelene has written a book called Wired To Play and it tells us that elite sports stars produce different electrodes and chemicals that allow them to strive to be the best," Quinn said.
"When that stops, the wires get crossed so to be speak, and that's where the depression kicks in, addictions ... looking for the buzz of what they had before.
"We want to educate players and prepare them for life after the game and also use that science to explain to guys who are struggling that it's not necessarily all their fault."
AAP