Sao Paolo: As they say in all the best mini-series, previously in the Luis Suarez story ...
There he is on the day in early May when Liverpool frittered away a three-goal lead at Crystal Palace, jersey pulled up over his face, the PFA footballer of the year, the Football Writers' player of the year, the most compelling contemporary figure in English football, but so what now? There is his captain, Stephen Gerrard, trying to protect him from the camera's unblinking gaze.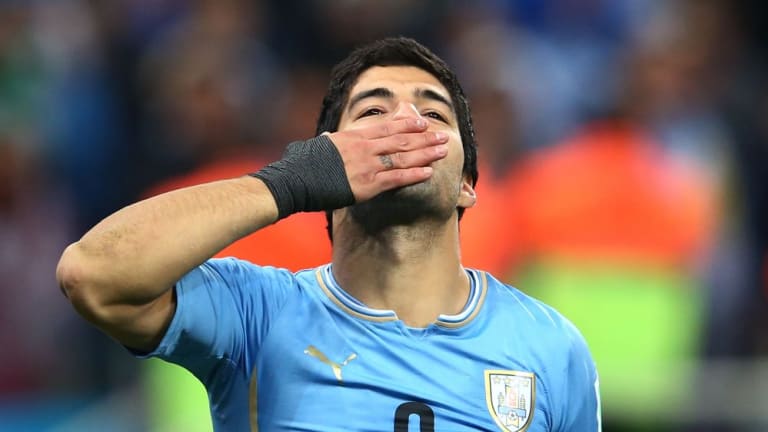 The week before, Gerrard himself had wished for the ground to swallow him up when he slipped and gifted Chelsea a goal and a win. Between those two results, Liverpool's Premier League title vaporised.
There is Suarez six weeks later, the toll of the Premier League season fully upon him, in a wheelchair, unable to play in Uruguay's World Cup opener, a thrashing from Costa Rica, gravely in doubt for its next game, a fated one against an England team more than half-made up of Merseysiders, including five of his Liverpool teammates.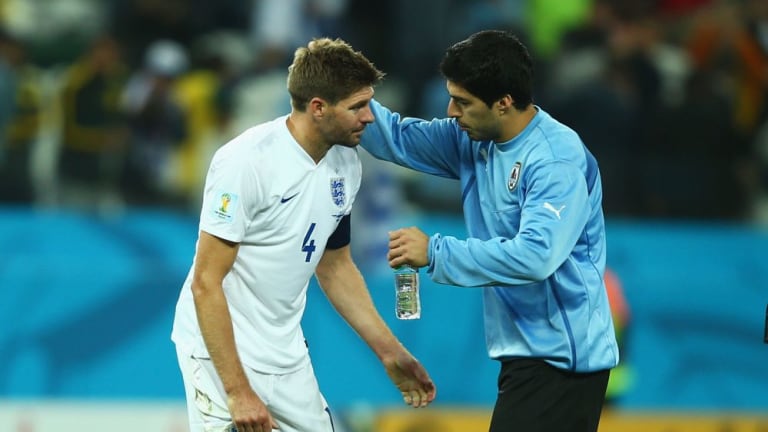 There, in another frame, is Wayne Rooney, the next most famous Scouser of all after the Beatles, the most talented England player of his generation and because of it, the designated scapegoat for its first round loss to Italy, glaring with pale eyes at the world and wishing it was as comprehensible to him as a football at his feet. There is the English nation, beating itself up over its football team again.
Spoiler alert: we're going straight to the closing credits, because we've got to tell someone. There is Suarez on an afternoon of such gunmetal grey and creeping cold that it might be Sheffield or Sunderland, not Sao Paolo, not that Suarez is feeling it now. He's hoisted on the shoulders of his Uruguayan teammates, his face split by an ineradicable grin, he suddenly two goals and they suddenly three points to the good, and if they let go of him now, he would surely fly.
There in the background are the England players he has learnt to love, and they him, but on whose friendship he had to turn his back on for an afternoon, and they his. There is Rooney, who is never satisfied and can never satisfy, who was probably England's best player this day, who wriggled his way into position for England's four best chances and finally took one to cancel out Suarez's first goal, but ended up losing anyway, and probaby is thinking that it will all be his fault again.
There is Gerrard, all heart, all soul, all blankness again, who in the evil way of these things was a something of a fall guy in both Suarez goals, and so becomes again the crestfallen face of a crestfallen team. There is that team, white as their jerseys, disconsolate. Like Liverpool that day at Anfield, it will take a miracle now.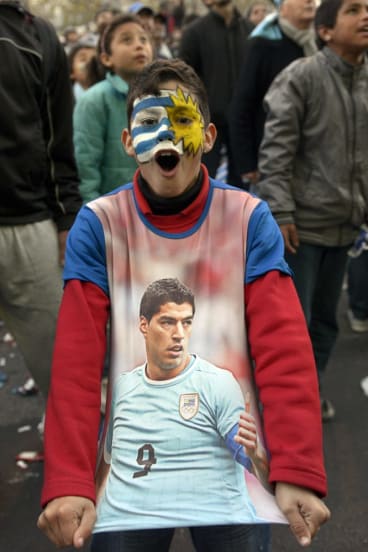 Here, we'll have another look, on DVD, because it's out already. You can slice and dice this encounter a hundred different ways, and England already has, but it all comes back to Suarez, his sublime genius and those two goals. He starts proceedings for the first by stripping the ball away from Gerrard, then times his foray into the box to the millimetre as teammate Edinson Cavani out on the right feints at first, then dollops the ball onto Suarez's head as if popping a cherry onto a cake. He does the rest.
Rooney hits the crossbar and the goalkeeper's chest and finally the back of the net, for the first time in World Cup football, and the English are euphoric because all their previous plodding doesn't matter now, because something good has happened and they are still alive. At that late stage, each side would like three points, but cannot afford to lose the one in hand, and so that looks to be that.
But in the middle of the ground, Suarez is bouncing the ball to himself impatiently, anxious for the re-start, and in the 85th minute, Uruguay goalkeeper Fernando Muslera launchs the ball downfield, and the hapless Gerrard is caught slightly under its flight, and it skims his head, so playing Suarez onside. He rounds it up, and before he really has a chance to balance himself has driven it into the net, and fallen to his knees, and taken an operatic bow. And that is that is that, for real, but also unreal.
So now you know what Suarez did. How he did it, who can say? It was not by fitness; on a GPS, he would barely have registered. It was not by weight of Uruguayan possession; England had twice as much. It was by that mysterous and almost mystic faculty that marks out a great sportsman, and probably not even he can pin it down to words, not the way he pins down the football itself. The more he is studied, the more inscrutable he becomes.
Suarez makes a nonsense of a game by numbers and a paragon of a game played in and by the soul. When he is on the ball, it is like minesweeper, the old computer game. One Suarez touch, in the right place, and suddenly great holes appear in the opposition formation, sometimes for him to exploit, sometimes for a teammate. And sometimes, just sometimes, there is just an explosion.
In the closing credits, there are the English fans, and (for once) louder than them this day the Uruguayan fans, and sometimes even louder than them the Brazilians, for whom football is about great goals, and the World Cup is a living fairytale, narrated in great goals, each one a chapter, and this day they had a double delight from Suarez for their happily ever afters.
In the very last scene, Suarez, now redopisited on the pitch, searches out Gerrard, and they hug briefly, and although Gerrard probably wants to pull his jersey up over his face this time, and perhaps for Suarez to shield him, he simply tousles Suarez's hair, and leaves it at that, because what more can you say?

Morning & Afternoon Newsletter
Delivered Mon–Fri.