Sydney FC overcame a harsh send-off and rough penalty call to scrap a 2-2 draw with an injury-hit Adelaide United in a controversial clash on Friday night.
The Sky Blues, with Ranko Despotovic and Corey Gameiro scoring, shared the points with the Reds, who lost two key attackers to injury in 10 minutes at Coopers Stadium. Adelaide lost Bruce Djite (groin) and Cirio (hamstring) in the first half-hour, but Sydney also rued rotten luck.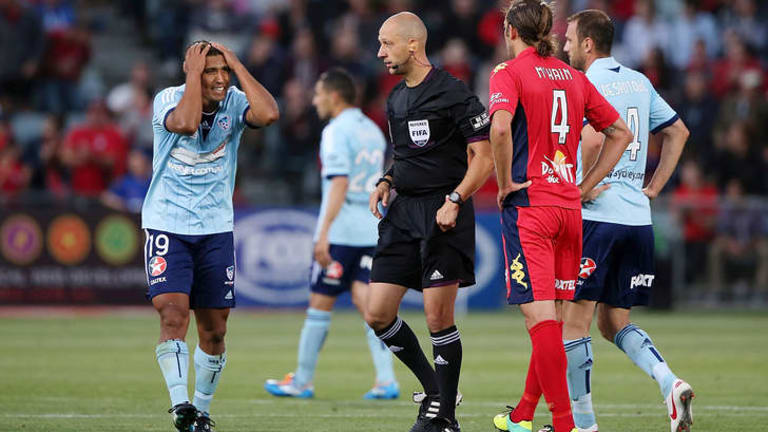 The Sky Blues' Nicky Carle was marched for a questionable second yellow card, while the visitors slipped behind because of a soft penalty call.
Despotovic opened the scoring in the eighth minute before Djite hobbled off in the 20th minute, followed 10 minutes later by his Spanish teammate Cirio. But the double injury blows, which compounded pre-game losses of attackers Jeronimo (suspended) and Marcelo Carrusca (bruised knee), were punctuated by an equaliser by Adelaide's Fabio Ferreira.
A pin-point Steven Lustica cross in the 24th minute found the Portuguese-born winger, whose right-foot shot struck the far post and rolled in to the relief of the Reds' parochial 15,347-strong home crowd. Adelaide's injury woes forced them to rely in attack on novices Awer Mabil, a substitute in all his 10 A-League games, and striker Anthony Costa, on debut.
And after Carle was unluckily sent off in the 68th minute after making negligible contact on Adelaide's Isaias Sanchez, Costa figured in the controversial penalty three minutes later.
The first-gamer seemingly crumpled from minimal contact from Sydney defender Matthew Jurman and Adelaide were given a penalty, converted by Jake Barker-Daish. But the Reds' 2-1 lead lasted just 10 minutes, with Gameiro neatly angling a header from a Nikola Petkovic free kick into the net for an 82nd-minute equaliser.
Sydney FC coach Frank Farina said the penalty against his side was ''a bit soft'', but was proud of the character of his side.
''It's groundhog day for every coach in the league, every week there is something controversial,'' he said. ''I thought we were going very well up until the red card. And 2-1 down, with 10 men, I would have signed for a draw.''
Adelaide coach Josep Gombau praised his players for an honest effort, but lamented a lost opportunity for a win. ''With all the difficulties that we had this week, and that we had in the game … they did very well, I am satisfied,'' he said. ''But with the result, I am unhappy because after 80 minutes, we are winning 2-1, and to win this game was very important.''
AAP
Morning & Afternoon Newsletter
Delivered Mon–Fri.