It's a dance in three parts, and Tim Cahill knows it better than any other Australian.
It begins on the pitch of a club called Desportiva Ferroviaria in suburban Vitoria. The stadium is overlooked by a ramshackle favela, and enclosed by gritty streets of concrete, the Brazil of hard legend. But the pitch itself is green and spirit level flat, and on it now are dozens of witches hats, poles, phantom footballers and clusters of footballs. These props and ephemera, looking like an obstacle course, but laid out to an exact plan, are a game in abstract. Each minute moved in it is planned - the opposite of ramshackle.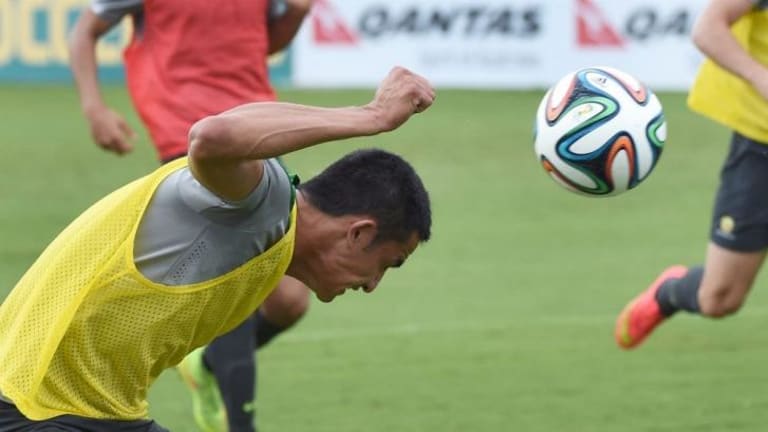 Training begins, and Cahill leads from the front in every drill, willing himself to be that bit quicker, that bit sharper, his touch that bit sweeter, his drive that bit more urgent. He's 34 now, the elder statesman of the team, a father of four himself and a father figure to this re-made Socceroos team. But he's still near his physical peak, still lean as a whippet, still burning with desire, and he thinks the best he can do for these greenhorns in gold is to act as example of what it takes to be the best, physically, mentally and patriotically.
"Everyone knows I moved to the MLS to prolong my international career," he says. "It was a massive gamble. But I love playing for my country. Responsibility is everything, off the park and on. For me, that means spending time with the youngsters. We chill out in the rooms, play FIFA. On the pitch, I make sure I get the most out of them. I love being the player they turn to on and off the pitch. That's I responsibility I don't take lightly. I really want to lead from the front."
In turn, they motivate him, with their competitive instinct in anything they do.
"It's like when I first started," he says. "You look at them, and you see yourself. Some of these kids are pretty special, and no-one knows about them. Hopefully at this World Cup, everybody's going to know about them. When we play FIFA, you can tell by their celebrations that they are serious. These kids don't want to lose at anything: table tennis, pool. They're giving me a run for their money, but as an older statesman, I'm holding my own."
It helps to keep him young. It also glues them all together.
"They're going to be tested, but they're going to be tested together, with all of us," says Cahill.
"Our mindset is that we defend as a team, and we attack as a team."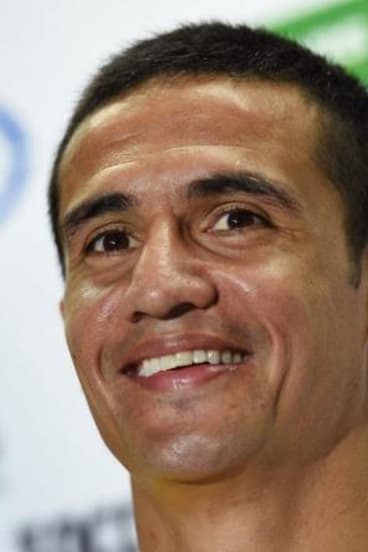 They are all playing a World Cup in Brazil, footballing nirvana. They know it, but they hold that thought. It might mean that they experience Brazil 2014 they way they are now experiencing Chile, Holland and Spain: retrospectively, on videotapes.That's fine by Cahill.
"We don't get to see what everyone else gets to see. We don't need to see it," he says. "We'll see it after the tournament. For these three weeks, all they need to think about is what they can do for themselves, and their country."
The drills quicken, the voices rise, and with them the smell of stud-ploughed grass, a universal intoxicant now. The obstacles are cleared, bibs are donned, yellow and red, and a game begins, Australia versus Australia, but just for the sake of the exercise, 11 versus 10. This is the new-old dance, part two. Again, Cahill leads from the front, a striker now, Australia's all-time leading scorer, the frontman.
Tucked in behind centre-back Bailey Wright, his eyes track the football and the footballers, judging when and where to run, at which angle and at what pace. He scores twice, once with his foot, once with his head, a Cahill classic. Those goals bring back memories of others in other World Cups. He was the first man to score for Australia in a World Cup finals match, and scored in its most recent, too, against Serbia four years ago. They are pleasant memories, stirring memories. But if he closes his eyes now, he thinks not about what he has done, but about what he might yet do. This is the Ange Postecoglou effect.
"I see my next best moment as a footballer possibly is still to come." he says. "That's something the boss has really set in my mind: why can't this be the best World Cup I'm ever going to play in? Why can't I leave everything on the pitch in the next three group games? I love looking back and thinking about scoring goals. I'd get more pride by looking back on this, making an impact in the home of football. It's the biggest legacy I could take.
"Ange's made a massive impression on the whole team: Why can't we be the best Australian team ever? Regardless of age, or what people say is lack of ability or experience. when you've got a coach that believes in you, you find different gears. David Moyes did it for me for eight years (at Everton). He found gears in me that I never knew I had."
Twice, Cahill is too quick for a dozy defender, and Postecoglous has to whistle up the game, or else the shadow team never will get forward. To Cahill, there is no such thing as training, just different sorts of games. Training finishes and the Socceroos shuffle a sweaty lap, Cahill still at the head.
Part three of this samba begins in half-earnest in Salvador on Friday, full-bloodedly in Cuiaba a week later. Then, the inanimate obstacles will be replaced by animate, shadow opposition, real and terrifying. For Australia, Croatia is practice (not to mention family familiar). For Croatia, Australia is precursor to another match against a team in green and gold, the mighty Brazilians in the tournament's opening number in Sao Paulo next Thursday.
It means its meeting with Australia will be in style more match than practice. That suits Cahill and the Socceroos, because all their training has been at match-day pitch anyway. Match-day is Cahill's element. Cahill says that in practice matches and real matches, one ambition drives Australia. "We want them (the opposition) to come off the park and say, 'I don't want to play those Australians again'," he says. "That's my test."
Beyond that, who knows? Cahill did not get where he is now by thinking small. This is the World Cup, he says, a world of possibility in a land of soccer. Brazil, he says, could put out three teams, each capable of winning the tournament. (In a practice against Peru on Tuesday, that is how it looked.) Equally, it could lose to Croatia and be half-out before the tournament has begun. That was why Australia could afford to think no further ahead than the Chile match. A shock win there could change everything, reverberate for weeks, then years. "This is the World Cup," Cahill repeats. "Three games."
Cahill is aware of Australia's humble expectations of its team.
"For us, it's perfect," he says.
Their worst outcome would be a round of "I told you so's", mild as pillory goes. The best is that everyone will clamber aboard the bandwagon, and the dance of Desportiva Ferroviaria will go on. Tim Cahill leading.
Morning & Afternoon Newsletter
Delivered Mon–Fri.