Socceroos star Tom Rogic has thrown his weight behind the Canberra A-League bid, adamant the capital's presence on the big stage would do wonders for the game in Australia.
The Canberra and Capital Region A-League bid team will submit its proposal this week in the hope of securing one of two expansion licences to join the A-League from 2019.
Rogic has risen to Socceroos and Celtic stardom but his career almost never got off the ground, with the youngster constantly overlooked for junior representative honours.
Brushed by selectors handing out AIS scholarships and picking underage national teams, Rogic finally got his shot after being nominated by Ron Smith for Nike's global search for untapped talent dubbed The Chance.
Rogic was one of just eight from a field of 75,000 players worldwide to earn a contract with the Nike Football Academy in the UK.
Then Graham Arnold and the Central Coast Mariners came calling. Before long, Rogic was on a plane to join Scottish giants Celtic.
His unorthodox path ultimately landed Rogic where he wanted to be - playing in a World Cup and on the global stage - but he believes an A-League team in Canberra would open an easier avenue for more to follow suit.
"I would love to see a team from the Canberra region," Rogic said.
"The area is very strong in terms of players, fans and facilities and there is such a strong football culture. If you come from Canberra it is very, very hard to break into professional football, and a lot of talented players miss out.
"Canberra has a history of producing good footballers and I believe having a team in the A-League would definitely help produce more professional Australian players.
"My pathway to Celtic was unorthodox through the Nike Academy competition and then the Central Coast Mariners. If there was a Canberra A-League team when I was working to make a career out of football I strongly believe this pathway would have been different."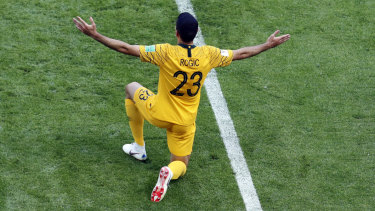 Not much has changed for Canberra products in the way of opportunity - since January this year Leo Mazis and George Timotheou have signed with Celtic and Schalke 04 respectively after failing to crack the A-League.
Rogic has been linked to the bid through Andy Bernal, the Canberra-based ex-Socceroo now working as a coach and player agent while helping the bid's football operations.
"Absolutely there is professional football talent in this region, I've seen it myself. We need to give them a pathway to excel," Bernal said.
Caden Helmers is a sports reporter for The Canberra Times