THE battle for the premiership is shaping as a two-horse race after Central Coast and Adelaide put an eight-point gap on their rivals with impressive wins.
After the Mariners breezed past Melbourne Heart 2-0 on Friday night, the Reds returned serve on Sunday by defeating Wellington 3-1 at Hindmarsh Stadium.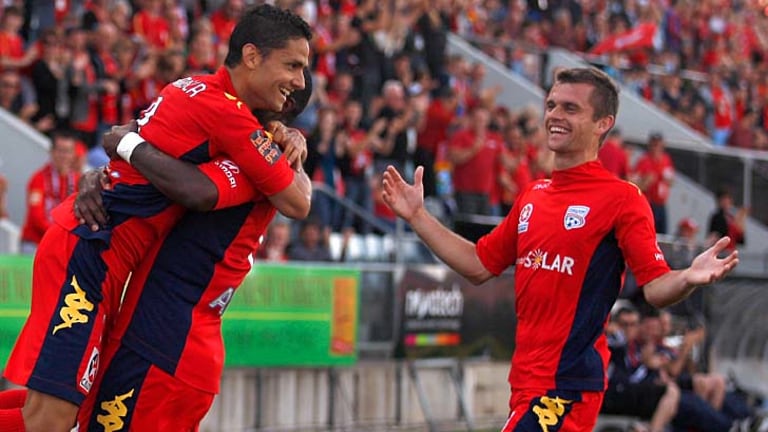 The win ensured Adelaide (25 points) kept on the heels of the Mariners (26) and the pair have now opened up a comfortable lead over third-placed Melbourne Victory (17).
With eight wins apiece, both of the leading sides have made better season starts than the Mariners and Brisbane Roar did last season.
With the halfway mark of the season approaching, the Mariners and Reds already appear hard to run down in the race for the premiers' plate but neither is getting caught up in the hype.
''Don't worry about reading too much about what is said in the press because if you start believing the media too much, then you're going to get yourself in trouble,'' Reds coach John Kosmina said.
''You can't deny the table but if you pay too much attention to it, you lose focus.
''We have now got eight points on Melbourne and probably 13 goals, I would say, so that is great … but if you want to rely on that, you're going to get yourself in trouble.
''We still need to be beat Western Sydney [on Friday].''
Mariners coach Graham Arnold said his side had ''achieved nothing'' yet.
''We've put ourselves in a great position to have a successful season but … they don't hand trophies out in December,'' he said.
A week after Kosmina said Marcelo Carrusca would prove to be the best import in the league, the former Argentina under-20 representative scored twice and created another goal as Adelaide defeated Wellington 3-1 on Sunday night.
Carrusca's first goal, in the 19th minute, was fortunate - he wafted a 20-metre free kick into the box and teammate Osama Malik missed the header and Phoenix goalkeeper Mark Paston missed the ball.
Five minutes later, striker Bruce Djite shrewdly played Carrusca into space and, too easily, he slid past a Wellington defender onto his favoured left side and launched from 15 metres to beat a diving Paston.
Wellington, anchored in seventh spot with just three wins, was unjustly denied a reply three minutes later when dangerman Paul Ifill's shot beat Reds goalkeeper Eugene Galekovic and was headed for the net.
Phoenix striker Stein Huysegems could have watched the ball roll in but instead slid to tap-in - only to be incorrectly ruled offside.
■Phoenix star Paul Ifill was allegedly racially abused by a spectator during Sunday's loss.
Phoenix coach Ricki Herbert refused to confirm the racial nature of the abuse, but an Adelaide spokesman said the club was aware of the incident and would investigate.
AAP
Morning & Afternoon Newsletter
Delivered Mon–Fri.