UEFA threaten Manchester City with possible Champions League ban
UEFA'S chief financial investigator has confirmed that Manchester City could face a Champions League ban over the alleged £60 million payments deception revealed during the Football Leaks scandal.
It was first disclosed last month how European soccer's governing body was considering a suspension against the Premier League champions over potential breaches in financial fair play rules.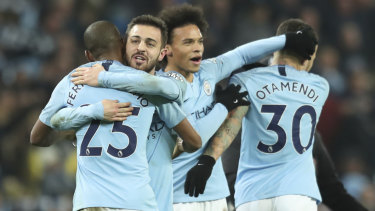 Yves Leterme, the chairman and chief investigator of UEFA's club financial control body, has now gone on record to confirm that City face "the heaviest punishment" if the allegations are proven.
Senior UEFA officials - who previously launched sanctions against City in 2014 - are particularly enraged by leaked files from 2015, which claim almost £60 million ($108 million) was paid directly into the club by their billionaire Arab owners but declared as sponsorship.
"If it is true what has been written, there might be a serious problem," he says in an interview translated by German magazine Der Spiegel, which initially broke the Football Leaks scandal.
"This can lead to the heaviest punishment: exclusion from the UEFA competitions."
The documents, allegedly obtained by illegal email hacks, were previously said to show £59.5 million that was supposed to have come from City's principal sponsor, Etihad Airways, was paid directly to the club by the Abu Dhabi United Group.
To put that into context, City's record signing is Riyad Mahrez, who cost £60 million from Leicester City last season.
At a UEFA conference in Dublin last month, Aleksander Ceferin, the UEFA president, said: "We are assessing the situation. We have an independent body working on it.
"Even if I knew more, I couldn't tell you now, but very soon you will have the answers [as to] what will happen in this concrete case."
According to a report in Der Spiegel in November, City breached FFP rules by €188 million ($306 million) in 2014.
City owner Sheikh Mansour was accused of funding significant parts of so-called deals with club sponsors in an attempt to escape Uefa sanctions.
Der Spiegel also alleged that City set up a secret scheme called "Project Longbow", which effectively hid about £40 million ($72 million) in payments to players, after the club had agreed a €20 million ($32.6 million) fine as a settlement for FFP breaches.
However, City have claimed "the attempt to damage the club's reputation is organised and clear" and said they "will not be providing any comment on out-of-context materials purportedly hacked or stolen from City Football Group and Man City personnel and associated people".
Among other potential breaches of UEFA rules, Der Spiegel published emails from 2010, reportedly from board member Simon Pearce communicating with colleagues, in which he discusses a £15 million deal with partner Aabar.
"As we discussed, the annual direct obligation for Aabar is £3 million," he allegedly wrote. "The remaining £12 million will come from alternative sources provided by His Highness [Sheikh Mansour]."
In another message, City's chief financial officer, Jorge Chumillas, allegedly wrote that the club faced a £9.9 million shortfall to comply with FFP thanks to the contract termination of manager Roberto Mancini.
The Italian was sacked in 2013, a year to the day after winning the Premier League. His giant pay-off meant yet more expenditure on City's books that had to be covered by income under UEFA rules.
City were also accused of manipulating other sponsorship deals by backdating them.
Der Spiegel reported that City and Paris St-Germain breached FFP rules by €188 million and €215 million (£192million) respectively in 2014.
Javier Tebas, chief executive of Spanish soccer's top division and a long-standing critic of City, has previously expressed doubts over whether City or Paris St-Germain would face sanctions because of a tangled web of financial relationships between the clubs and UEFA.
City were not immediately available for comment.
Telegraph, London