Canberra United has lost the battle to retain Young Matildas striker Hayley Raso, who will return to Queensland for the upcoming W-League campaign.
The 18-year-old Gold Coast product added plenty of pace to United's attack over the past two seasons and is expected to join the Brisbane Roar.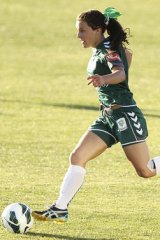 Fellow Australian under-20s women's international Meg McLaughlin will take Raso's spot on the United roster.
Raso was used as an impact weapon off the bench in United's championship-winning season in 2011-12, before becoming an integral cog in both the midfield and up front last season.
McLaughlin is a more than handy replacement.
She possesses plenty of speed on the flanks and was called into the Young Matildas squad for the three-match series with the under-20s South Korea women's team in April.
While clubs are unable to sign players until September, United chief executive Heather Reid conceded Raso wouldn't be back in green this summer in a blow to the team's bid to return to the finals.
''Hayley Raso won't be back, she's staying in Brisbane for education and work reasons,'' Reid said.
''Meg McLaughlin, who is a local player in the [Australian] under-20s will come in and take her place.
''We'll have some of the core players, plus five local players who are in the Australian under-20s training squad and a couple of internationals who will bring some excitement to the team.''
Reid said she was looking at recruiting ''two or possibly three'' American players, along with a couple from rival W-League clubs.
The overriding priority remains securing the signature of Matildas goalkeeper and foundation United captain Lydia Williams, who is currently playing in Sweden.
United has parted ways with goalkeeping coach Paul Jones, with Williams keen to know who will take over his position before she commits.
''I'm very confident Lydia will be back to play for Canberra,'' Reid said.
''I'm still in negotiations, [but] I'm 90 per cent confident she'll be back in Canberra.''
New United coach Liesbeth Migchelsen will arrive in September to begin preparations for the upcoming season, which is tentatively pencilled in to kick off on November 9.
United's title-winning mentor Jitka Klimkova has returned to Canberra, albeit briefly, in charge of the New Zealand under-17 women's team for Wednesday's match with the Australian under-17 women at the AIS.
Klimkova will be back in Canberra in September to assist with handing over the team to Migchelsen.
Lee Gaskin is a sports reporter at The Canberra Times.