SYDNEY FC coach Frank Farina has added his voice to the growing concern over the timing of the A-League transfer window, declaring it to be ''almost a restraint of trade''.
The Sky Blues are playing a waiting game as star striker Joel Griffiths cools his heels on the sidelines, unable to make his debut until January 19 - more than a month after his deal to join Sydney was made public, and almost three weeks since his deal with Shanghai Shenhua expired.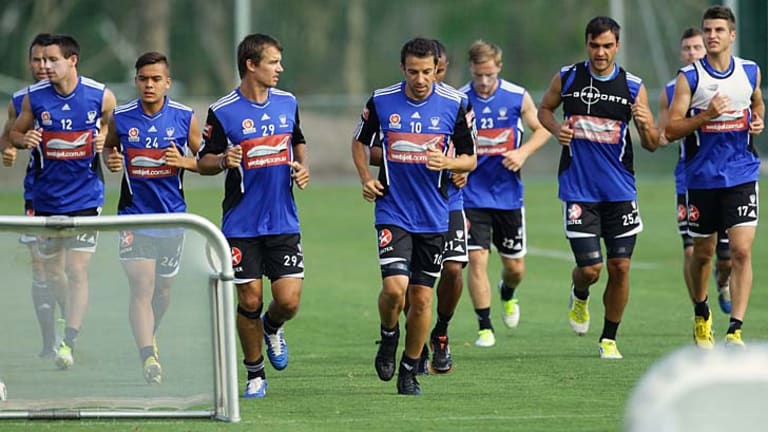 Sydney could urgently use a striker of his calibre for Sunday's match against Melbourne Heart at Allianz Stadium, a fixture that ended in a 0-0 draw when the teams last played.
Farina said he was perplexed as to why the FFA altered the transfer window to mid-January, rather than at the start of the month as happens in most European countries.
''I don't agree with the window here at the moment,'' Farina said after training on Tuesday at Macquarie University. ''Joel Griffiths, for example, is off contract on December 31, so it's not as if he is still contracted to a club - but he can't start playing until the 14th which, for me, is crazy. It's almost a restraint of trade that he can't play for those two weeks. It's a problem with the timing of the window. Sometimes it'll work for you and sometimes it won't.''
A FFA spokesman told Fairfax Media the timing was designed to ''accommodate the overlap between the European transfer windows and to allow for room to do business after their closure at the end of January''.
However, Farina wasn't so sure it was as beneficial as the governing body hoped. ''I think we can most probably tweak it and get it a bit better, but that's the way it is,'' he said. "I think they put the dates down in good faith thinking it was going to be the best thing for the league, but for us, in our situation, it's not. For others, it may be good. You're not always going to please everyone. At this stage, we're not pleased.''
In better news for Sydney, Panamanian striker Yairo Yau and Brazilian defender Fabio both completed full sessions at training, putting them squarely in contention for selection for Sunday.
"They worked reasonably hard there with [fitness coach] Anthony [Crea] so hopefully Fabio and Yau will be available this weekend," Farina said. "It's only Tuesday and the game's Sunday, so there's no point talking about who's going to start or who's going to be on the bench."
While Sydney are at the bottom of the table, there's a sliver of hope given the logjam of teams above them - they could even be within a point of the top six by full-time this weekend.
Farina said his side was not far away from where he wanted it to be after a tricky start to his interim tenure. "We've just got to get that consistency,'' he said. ''We've said that word so often over the past six weeks. If we can maintain that consistency, we'll do well. It's one of those competitions where, on any given day, anyone can beat anyone. I think it will go down to the wire, those last two or three games, so it's a vitally important period coming up for us to pick up points. If you manage to get into the six, you've got a shot at the title."
Having often fallen behind at the wrong time this season, Farina said he was heartened by the way his side twice fought back to equalise and draw with Perth Glory last weekend.
Newcastle also face a nervous wait over the fitness of Ruben Zadkovich after he injured his knee at training. He will likely find out on Wednesday if there is any serious damage.
Meanwhile, Central Coast Mariners star Tom Rogic has committed to the club for the remainder of the A-League season and will only consider moving abroad once his contract with the club expires.
Rogic turned down a move to English Premier League side Reading over the weekend and has instead decided to stay with the Mariners, who currently sit in first place in the A-League, for at least six months.
''There was a bit of interest from a few clubs, in particular Reading, and as a player it's very flattering to be linked to a team that's in the English Premier League, but it wasn't to be and at the moment it's not happening and we'll re-asses it at the end of the season,'' he said on Triple M.
Rogic said he was a ''little bit'' frustrated at not playing in Europe but was confident his time would come.
''There's a lot of unknowns … would it have been better for me, or what would have happened, I don't know. I'll just move on and keep training and doing what I keep doing on the pitch. Off the pitch will take care of itself.''
■ Defending champions Brisbane have signed experienced Japanese-based Socceroo Jade North.
Roar officials confirmed they had secured North's signature on a three-and-a-half year deal on Tuesday night.
North, who has been playing for Consadole Sapporo in Japan, has been signed as a defender as the two-time champions undergo a shake up under new coach Mike Mulvey.
''Jade has an excellent footballing pedigree and will bring a great deal of experience and knowledge to our squad,'' Mulvey said.
''He is a proven winner and has a great appetite for future success.''
with AAP
Morning & Afternoon Newsletter
Delivered Mon–Fri.