ALESSANDRO DEL PIERO did not attend Sydney FC's final training session on Friday and remains in doubt to play against Central Coast Mariners on Saturday night. Sydney FC's coaching staff granted the Italian's request for a day's rest in the hope he can overcome a hamstring injury and they will make their final assessment on his fitness before the team bus departs.
Del Piero complained of fatigue and a tight muscle problem after last Sunday's game against Perth and has only trained with the rest of the squad for about an hour this week, having been given two additional days off. Sydney FC coach Ian Crook has been content to allow his star player to recover at his own pace but is aware Del Piero might miss the trip to Gosford.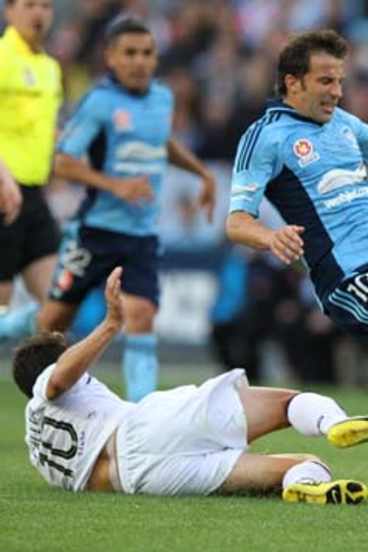 ''Yeah look, we rested him … We said all the way along that we'll give him until tomorrow [Saturday], and that's what we're going to do,'' Crook said. ''At the end of it, obviously it's a concern but he's a good professional and he knows his body, and he said, 'Look, gimme until tomorrow', so we're certainly doing that.''
Del Piero has been included in the provisional 16-man match squad, but young strikers Blake Powell and Dimitri Petratos are on standby should he fail a late fitness test. Crook hopes Del Piero will recover in time but has faith the youngsters will perform if called upon against last season's minor premiers.
''They [Powell or Petratos] will be involved in the mix and if they get their opportunity, I'm sure they won't let the club or the team down,'' Crook said.
Injuries have taken their toll on the Sydney FC camp throughout the early stages of the season and six first-team players are already ruled out of the Mariners match.
Crook has not been able to field the same starting 11 in consecutive games because of forced changes but believes there is a silver lining to their injury woes, as young players have been given the chance to shine.
''I think what galvanises people is when they believe they've got the opportunity to play. I think everybody's shown in the first month that there's opportunities in our squad. Everybody that's actually been fit has had a go in that group, so it pulls us together, tighter and hopefully we'll be stronger and we'll need to be both of them tomorrow.''
While Del Piero might miss Saturday's match, Sydney will have the advantage of inside knowledge of Graham Arnold's men with the experience of former Mariner Trent McClenahan. The defender spent three months in Gosford during the Mariners' Asian Champions League campaign, which has prepared him to contain their strikers.
''It's easier for me because I know a lot of the boys … I know the way they like to play but they won't be a surprise to us as a team or anyone in the league,'' McClenahan said. ''I think they've played that way for a number of years under Arnie.''