Spears end Firebirds' years of glory
UNIVERSITY of Canberra Firebirds coach Shawn Willis has labelled the Capital Spears the new giant of the ACT Gridiron league after the Woden-based club took out Saturday's grand final in its inaugural season.
The Spears won the decider 26-0 at Greenway, dominating the university club that had won the past two titles and six of the past eight championships.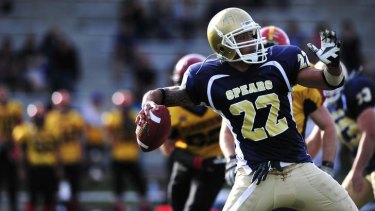 Willis conceded the Firebirds had finally met their match.
''The other team was big and dominant and, as the game wore on, their physical size and presence was just overwhelming,'' Willis said. ''This was David and Goliath, but in this instance Goliath won.
''For the back end of the season they were the in-form side, things were starting to click for them and they were peaking at the right time. They had all the chemistry, they had all the right pieces and towards the end of the season they had me very concerned.''
The Spears were led by quarterback Joseph Taula, who not only took out the Most Valuable Player award for the grand final but also shared the MVP award for the league.
''He tore shreds off our team, he's got a lot of talent and he brought two A-games,'' Willis said.
Running back Jeremy Milne was best for the Firebirds again, sharing in a fifth consecutive league MVP award.