Former Swimming Australia head coach Leigh Nugent knows coaching jobs ''end up in tears'' and has no desire to return to the job he resigned from in March after a disastrous London Olympic Games.
Nugent was back on deck in Canberra this week, working with both the National Youth and Talent ID camps at the Australian Institute of Sport.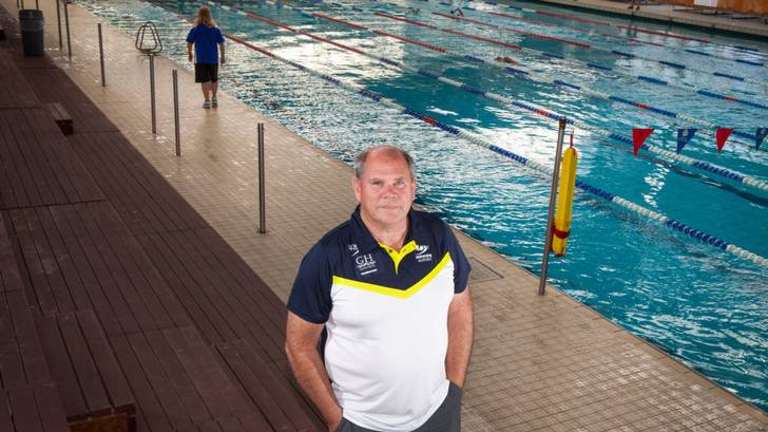 He's working with Swimming Victoria and the Victorian Institute of Sport and was brought to Canberra to not only work with some of the country's most promising young swimmers, but help develop up-and-coming coaches as well.
A relaxed Nugent said it was important to have experience at the lower levels to help support the national coach.
But he had no desire to return to the top level himself.
Instead, he's enjoying having more time to fish and keep out of the spotlight after scandals surrounding the swim team in London last year.
Most notably, the men's relay team came under scrutiny for taking Stilnox, which was banned by the Australian Olympic Committee, as well as knocking on the doors of the female athletes while they slept.
The Bluestone Edge review labelled the team's culture ''toxic'' in London.
Nugent didn't think he needed to respond to former Swimming Australia president David Urquhart and former chief executive Kevin Neil's recent claims Nugent kept them in the dark about the turmoil surrounding the team. They washed their hands of blame, heaping it on Nugent instead.
The former head coach felt he'd said enough in the reviews and inquiries following London and was ''leaving all that behind''.
''I've had my turn … it's time for someone else to take over and that's occurred,'' Nugent said.
''Often these profiled coaching jobs end up in tears so I suppose that goes with the territory.
''You've just got to get on with life. Sometimes the skittles don't fall the way you want them to fall and there has to be an acceptance of that.''
He said the addition of an integrity officer to the team would help deal with future problems.
Olympic gold medallist Leisel Jones recently revealed her battle with mental health issues, saying her pursuit of gold at Beijing became ''psychotic''.
She became so desperate to win it ''cost me my mental health''.
Jones won two silver medals at the Sydney Olympics, a relay gold in Athens before finally breaking through for an individual gold in the 100-metre breaststroke at Beijing.
Nugent said all top athletes were ''pretty obsessive'', but he felt there was a ''lot of support'' for the swimmers involved with the national program.
Sports psychologists travel with all junior and senior teams.
''There is a lot of support, but every individual is different,'' Nugent said. ''I know when Leisel was in Victoria there was support in place for her down there, in the psychology area, in the welfare area, and she utilised that support.
''Leisel was an outstanding athlete and I think many athletes who are competing at the edge are pretty obsessive about trying to get success and they feel the pressure of trying to win that gold medal.''
David Polkinghorne covers the Canberra Raiders, local rugby league, Canberra Cavalry, racing and cycling, along with every other sport, for The Canberra Times.