It does not seem long ago that Australian swimmers were beacons of athletic supremacy and models of wholesome virtue. A gold medal in one hand, a muesli bar in the other and a politician with an opportunistic arm draped around their broad shoulders.
After the release of two reports on Tuesday, a far less flattering image of Australian swimming has emerged; that of an Olympic team deeply confused and divided. Young swimmers distracted by troublemakers, daunted by unrealistic expectations, depressed by failure, belittled by a star system and led by befuddled officials whose management skills make David Brent look like Donald Trump.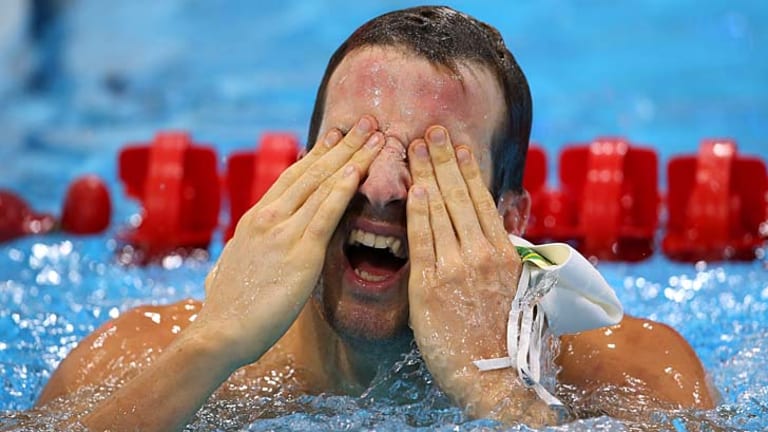 It is a startling downfall for a proud sport now portrayed as distracted and decayed. One in which a handful of recalcitrant and egotistical swimmers have gone unchallenged, to the detriment of their own performance and that of their teammates.
The Australian Sports Commission's independent review of Australian swimming, chaired by Warwick Smith, sucks the pool dry. Forensically, it exposes the sport's poor management, transparency, communication, consultation, accountability, stakeholder engagement, use of resources, lines of reporting . . . name your management buzz phrase.
The report is both damning and highly prescriptive. From the appointment of an all-powerful high-performance manager, to the return of yellow caps – swimming's "baggy green". But the 35 recommendations might be summarised in a sentence: Swimming is crying out for the professional administration taken for granted in other top sports.
Mercifully, given swimming already spends twice as much as the average Olympic sport on high performance, it does not call for greater funding. It does demand greater co-operation with the representatives of swimmers who are disadvantaged both financially, and in the pool, by poor administration.
The ASC report is vital for swimming's future governance. But, for those wondering what took place on the pool deck in London, the Bluestone Report into the swimming team's culture is more compelling. Not merely because it alludes to the troubles of some superfish out of water, but because it provides an intimate insight into the competing factors faced by athletes, coaches and officials – and what happens when they simultaneously reach an intersection where the traffic lights are flashing orange.
Demanding coaches under pressure to justify their positions. The generational difficulties of imposing discipline on highly-strung performance. Conflicting individual and team priorities. And, most significantly, the need for firm and inspiring leadership of sometimes strong-willed and recalcitrant competitors. Swimming failed these challenges and belly-flopped.
The most damning line in Pippa Grange's report will be oft-repeated: "There were enough culturally toxic incidents across enough team members that breached agreements [such as getting drunk, misuse of prescription drugs, breeching curfews, deceit, bullying] to warrant a strong, collective leadership response that included coaches, staff and the swimmers. No such collective action was taken."
The misbehaviour seems dramatic. But, more disturbing than a few nights on the booze, is how an environment in which a number of minor incidents afflicted and debilitated an entire team was created. Particularly the lack of backbone displayed by the team management, whose fierce desire for gold medals clearly undermined the imposition of discipline.
Troublemakers were not punished. Nor were those who diminished team unity by failing to attend meetings or to sit in the grandstand and cheer teammates. The rod was spared on the self-defeating premise it would harm the miscreants' performances.
Similarly, stars were feted and others felt marginalised. As the report states: "One person said he felt that it was not really about whether you swam your heart out, it was about whether you could sell your heart out."
Nothing was done to deflate the enormous public expectations, even of swimmers who had made the team with "soft times". Yet, there was no mechanism to cope with the deflation suffered by athletes humiliated by their public "failure". There was no dedicated team psychologist. Swimmers who should have been working on their recovery spent time justifying their performances – and themselves – to ignorant social media critics. Exhausting and isolating. Thus, for some, it became the "Lonely Olympics".
As Grange observes, "the science of winning appeared to whitewash the art of leadership". Shambolic in a sport struggling to attract sponsors and broadcasters, and to pay its athletes a worthwhile wage. Will either report necessarily improve Australia's chances of greater success in a competitive environment? Perhaps.
What swimming can certainly do is improve the chances of athletes achieving their best, and coping with the outcome. Which is the least they deserve.
Twitter @rdhinds

Richard Hinds is the Chief Sports Columnist for The Sydney Morning Herald
Morning & Afternoon Newsletter
Delivered Mon–Fri.