Gael Monfils is into the quarter-finals of the Australian Open, which ought not to be such a surprise, except that it hasn't happened before in 10 previous starts here. Monfils has reached the quarter-finals only six times in all major tournaments, and only once proceeded to a semi-final, in a career spanning 12 years. Put brutally, his story is one of of boxes he hasn't or rarely ticked. Contemplating the generally rich pickings of French players just now, Cedric Pioline said recently: "Maybe we would have expected a bit from Gael in terms of results."
Monfils did rise as high as No.7 in the world in 2011, and at No.25 still, he has not slipped far. The ATP could probably give you a stat on quantums of years in the top 25. He has won five tournaments, though even in this there is a telling latent detail: he was beaten in 17 other finals. He is 29 years old.
Monfils did not so much arrive on the tennis scene as burst into it. In 2004, he won three of the four junior majors. He was West Indian by descent, tall, willowy, and impressively acrobatic. As he launched himself around court – centre court, often enough – it was sometimes impossible to tell where the dreadlocks ended and the legs began. He was an instant crowd-pleaser. People love tennis for the aesthetics and the contest, which is why it is hard to feel sorry for bookmakers who get stung trying to make money out of pointless mixed doubles.
Traces of Monfils, junior, remain. The affects are still in place, from the headband down. So is the game. To judge from his reception on Margaret Court arena on Monday, no-one who won Monfils in the ticket sale lottery was displeased. He has miles on the clock, but the inner spring still works. Several times, he waggled his left leg as he climbed into a backhand, and once launched himself sideways, goalkeeper-wise (but unavailingly). A dip of the knees here, a slide there, and at a crucial moment in the fourth-set tie-break, a cross-court winner that was more sleight of hand than forehand. The years fell away.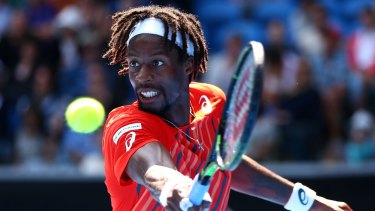 Andrey Kuznetsov was a decent inoculant for Monfils, a sample of what he might face next, to proof himself against it. This was already the farthest he had advanced in a major, and the first time he had beaten three players in a row in a tournament. He was in form. Billed as an "aggressive baseliner", he on his baseline regularly was able to pass Monfils on his with thumping shots. Life became complicated for Monfils when blistered fingers – already all plastered – began to bleed, causing him momentarily to lose his grip, on his racquet and the match.
Fortunately, his fingers responded to a medic's treatment, and the match to his, winning 7-5, 3-6, 6-3, 7-6 (7-4). Two dynamics were telling. One was Monfils' serve, which was all but impregnable. The other was the fact that the longer the point, the likelier Kuznetsov was to win it. This must have been apparent to both. Monfils abbreviated the rallies, and at length drew a line under the match.
So Monfils gets a rare peek deep into the second week. Does this prove that he should have been on this threshold more often? Junior stardom is a notoriously unreliable recommendation for a career. Monfils at 17 was said to be promising when what was really meant was precocious. He promised only what any sportsperson can, to keep trying. His place in tennis's hierarchy and history looks to be well established: he is one of the domestiques, a success, but not a triumph.
Asked on Monday if he could explain his lesser results in the Australian Open, he replied without a trace of rancour: "It's a good question, and I have no answer for it." Ditto, you imagine, his career.