VICTORIA AZARENKA admits she is unsure of the reception she will receive when she walks out for the Australian Open final against Li Na on Saturday night, having moved into damage-minimisation mode after the storm of Thursday's time-out controversy.
The world No.1 and defending champion on Friday reiterated her message that it was not gamesmanship but genuine injury that was responsible for the painful breathing problems she suffered late in the second set of her semi-final against Sloane Stephens.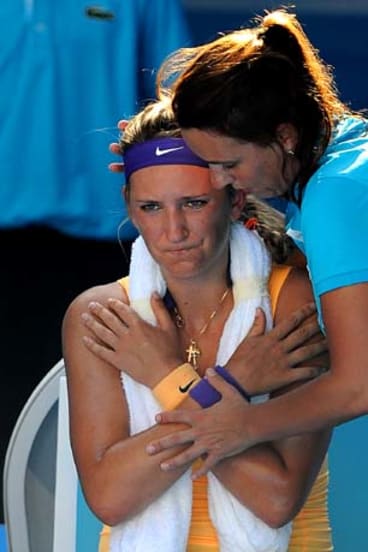 In her immediate post-match TV interviews she seemed to suggest the issue was anxiety-related; only later did she reveal that a ''locked rib'' had caused her distress.
But, given that her long time-out came immediately after Stephens had saved five match points to break serve, her actions met with savage criticism in some quarters, including from Stephens's coach, David Nainkin.
The popular Li is expected to be a heavy crowd favourite, and Azarenka said she was uncertain what to expect when she returns to Rod Laver Arena, but did not deny she felt some sense of apprehension. ''I just try not to think about it; I just try to focus. But whatever happens, it happens. We'll see,'' she said.
''I'm just going to be out there trying to show my best, how I've been the whole two weeks, and the rest I can not really control that, I'm just there to try and be the best tennis player as I can be.''
Azarenka conceded she had been shocked by the response, which was particularly vitriolic on social media.
''It's not easy, definitely, but it's something that unfortunately I had to go through, and I will learn from it, and I will be much more careful to answer what people ask me next time,'' she said. ''I expressed myself a lot yesterday; I did that again today to clarify things and make sure that everybody understood what really happened.
''To call a trainer happens to everybody; everybody does that. I had it done against me in my third round, but I never took it the wrong way. I would never do that to my opponent, to any opponent, especially a girl like Sloane, because we are friends off-court, … I would never do anything bad intentionally. That's not the kind of player I am.''
Azarenka again admitted that the timing was unfortunate, and she was sorry not to have called the trainer earlier, having first experienced problems at 4-2.
Her treatment continued on Friday, and Azarenka said she had sent Stephens a message, ''to make sure that we are OK … ''.
The Australian Open tournament director, Craig Tiley, said the grand slam supervisor, in conjunction with the trainer and tournament doctor, had been satisfied that the rules had been upheld and the spirit of the game adhered to.

Linda Pearce is the Chief Tennis Writer and general sports reporter for The Age. She writes about a range of sports, including football, netball, and gymnastics. Linda has twice been named Australian tennis writer of the year.
Morning & Afternoon Newsletter
Delivered Mon–Fri.