Rain delayed Canberra Velocity's bid for a place in the national final of the Asia-Pacific Tennis League on Tuesday night.
The women's team was once again locked in a thrilling battle with Asia Pacific Tennis Institute Steelers at Sydney Olympic Park on Tuesday night, with matches tied at one rubber each; while the men trailed the highly fancied ATP Sydney outfit two rubbers to one.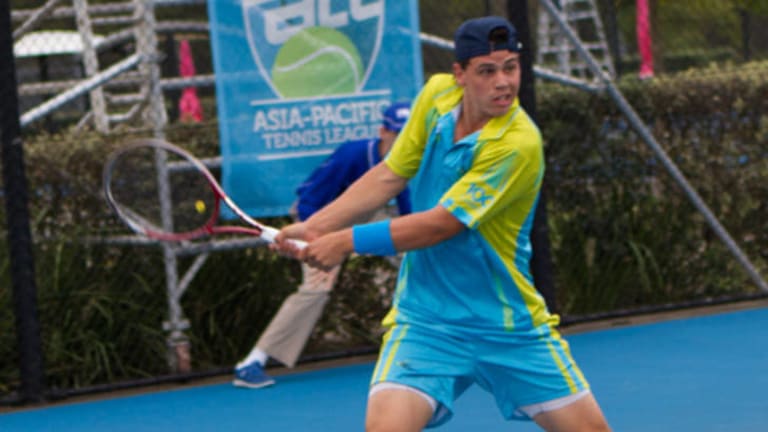 Tyra Calderwood got Velocity's women off to an impressive start, making short work of Julia Moriarty 4-2, 4-1, while Alison Bai went the distance against Monique Adamczak, before eventually losing 4-3 (5-3), 2-4, 4-1.
Velocity baseliner Nicole Hoynaski held three set points against former professional Trudi Musgrave in the first set tie-breaker when rain halted play, with Steelers' Stephanie Bengson leading Ashley Keir 40-30 in the first game of their match.
Team manager Annabel Parolo said she still liked her team's chances of reversing last week's two-set loss to the Steelers.
''It's disappointing not to get a result here tonight, but we are playing well and I'm confident we can get the result we came for,'' Parolo said.
ATP Sydney, which beat Velocity 5-1 in the second round of the competition, is well-placed for a spot in the national final, with Ryan Henry leading Canberra's Jake Eames 4-1, 2-2, when play was suspended.
Velocity's men's manager Todd Larkham said his team was still in with a chance of upsetting the NSW/ACT conference leaders for a place in the national final.
''There's nothing in it,'' he said. ''We might be 2-1 down, but Jake is very much in his match against Ryan Henry and it could go either way. And the doubles is anyone's match.''
Velocity's men dropped the opening two matches of the conference final, with Alex Bolt winning only two games against serve-volleyer Adam Feeney. Alun Jones went down to former Australian Open boy's finalist Nick Lindahl 4-2, 4-2.
Velocity's Nick Kyrgios broke serve in the first game of his match against touring pro Matthew Barton and never looked back, winning 4-2, 4-1 to keep Canberra's hopes alive.
Larkham said it was one of the best matches he had seen his former protege play.
Morning & Afternoon Newsletter
Delivered Mon–Fri.