AT 2PM on Monday, just over 12 hours after Novak Djokovic had summoned almost enough energy to rip the shirt from his body, and still an hour before he'd flagged getting out of bed, Tomas Berdych was in fine fettle. The Czech bounced around the practice court, signed autographs and posed for photos.
''I saw it all. It was unreal tennis, they were playing unbelievable,'' the fifth seed said of Djokovic's five-hour epic against Stanislas Wawrinka.
His own Sunday evening passage to the quarter-finals had taken little more than half that time but Berdych was still awake at 1.40am to see his next opponent materialise. ''It was a better feeling to be in the bed and watching them fighting on court than be in that position,'' he said with a smile.
Yet he knows the defending champion has the runs on the board where backing up from a long night at the office is concerned. ''It could be an advantage, probably, if Stan won,'' he said, ''but definitely not for Novak, he's used to it.''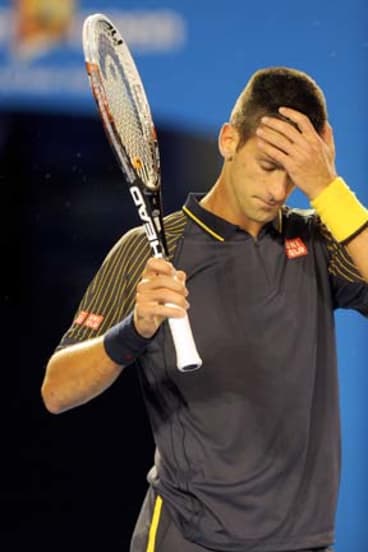 The most famous of the world No.1's 17 five-set wins came in last year's six-hour final against Rafael Nadal, after a five-hour, five-set semi-final win over Andy Murray. He is undoubtedly an iron man, but perhaps timing will work against him more than time this year.
''Harder, much harder,'' former top dog and triple Australian Open champion Mats Wilander said of Djokovic's road this year, on which he needs enough left in the tank to win three more matches if he is to defend his title. ''The first hour-and-a-half yesterday wasn't that hard but as I see it, he's in trouble.''
The first hurdle comes on Tuesday night against Berdych - a heavy-hitter who will test Djokovic's legs as well as his shot-making - and Wilander is worried about further toll if he's pushed to even four sets. ''He needs to dispatch of Berdych in three sets. If it's four, five, [and] then he's got [David] Ferrer, that's great for Ferrer.''
Preparation and recovery are far bigger pieces of the tennis puzzle than when Brett Stephens stopped playing football for Fitzroy and hit the circuit as Pete Sampras's physical trainer in 1993. He used to trade tickets for inner-city gym use because tournament venues had none. He acknowledges Djokovic's athletic credentials but also sees trouble ahead.
''I think he'll probably come up with a bit of a different game plan as far as, 'OK, I'm not feeling so great physically, maybe I've got to shorten the points a bit, play more aggressive','' Stephens said. ''It definitely won't help him, long term, in the tournament.''
Which is where Wilander says Wawrinka's effort must not only give others hope but also a template for taking down the men who have put a significant distance between the elite and also-ran camps. Ferrer and Berdych lead the latter, and Tuesday offers another opportunity for change.
''Everybody needs to take a crack at these top guys,'' Wilander said. ''They need to get together and do what Stan did yesterday, Berdych needs to do that.
''Win or lose, he needs to throw it all at him, because it sends a message to everybody else … If Berdych steps up with the same attitude that he's nearly as good a ball striker, then he [Djokovic] is in trouble by Sunday.'' But then again, Wilander added, ''I'm not sure you can humanise Novak.''
Djokovic spoke after the Wawrinka marathon of the exhaustion he felt last year ''after the whole tournament''. At 2.30am on Monday, he admitted, ''tonight, there is no doubt I'm not very fresh'', which was only to be expected. Experience told him he would rebound quickly.
Hawk-Eye tracked Djokovic running 5729 metres on Sunday night - more than he'd scampered in the previous three matches combined. He meets Berdych having slogged through three kilometres more of high-intensity court coverage than the Czech.

Peter Hanlon has worked at The Age since 1995, initially as deputy sports editor, subsequently as editor of the Saturday and Sunday Age sports sections, and since 2007 as a senior sports writer. He writes extensively on the AFL, and has also covered the Beijing Olympics and Delhi Commonwealth Games.
Morning & Afternoon Newsletter
Delivered Mon–Fri.