"It didn't impress Nadal very much did it ... that's a bit cheeky Nick."
That's how Nick Kyrgios' mother Nill described what has already been labelled as one of the greatest tennis shots ever, but it could also have described her son's win over world No.1 Rafael Nadal.
Nill was almost hoarse after watching Kyrgios advance to the Wimbledon quarter-finals on Wednesday morning.
But he didn't just win, he also produced a freakish shot that had already gone viral on social media by the end of the match.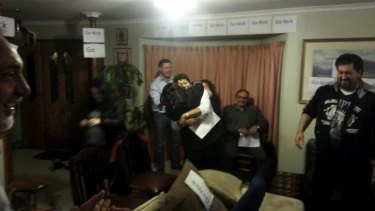 It was an audacious flick between his legs that didn't just have the nerve to go in, but go on to be an unplayable winner as well.
His mother couldn't bear to watch Kyrgios' previous match and spent almost all of it in bed, but this time she wanted to be there for her son for his round-of-16 clash - sitting on the couch in the family home in Watson, surrounded by friends and family.
The packed room meant Kyrgios' brother Christos relocated to the other end of the house with a smaller group of friends.
He likes to have his space when he watches his younger brother play.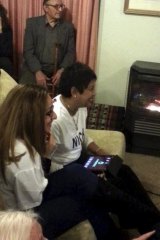 Kyrgios' dad George and sister Halimah were courtside as he produced one of the upsets of Wimbledon, if not the year.
But while the family might be scattered around the world, they couldn't be closer.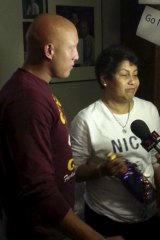 They're also extremely confident in each other as they celebrated the win and looked forward to Kyrgios' next match - against world No.9 Milos Raonic on Wednesday.
"I'm just flabbergasted. I saw Hali crying in the stands after the win and George has probably got tears in his eyes, it's phenomenal," Nill said.
"It's like, okay, now Nick has arrived.
"I couldn't get off my seat, it's the complete opposite [to normal] because I thought I wanted to see so I could help him and offer some advice - [but] he didn't need any advice.
"I was glued to the chair, I couldn't move ... and now my voice is cracking from the screaming, it's fantastic."
Just minutes after Kyrgios had triumphed on tennis's biggest stage, his brother was already updating Kyrgios' social media on the other side of the world.
With his house full of people, Christos had relocated to where he could have a bit more personal space.
He's the same when he's courtside, not wanting people to get too close to him in the player's box.
"I can't be around too many people when I watch him play, I'm the same in the box - if anyone's touching me while I'm in there I just get real hostile," Christos said with a laugh.
"It's crazy, I still don't know what to feel really."
So how far can this runaway Kyrgios train go at Wimbledon?
He's already more than doubled his career earnings in one tournament and is not done with yet.
Victory over Raonic, who he lost to in straight sets in the first round of the French Open in May, would put him into the semi.
If he can beat Nadal, there's no reason he can't go even further.
"We're super proud of him, this is a culmination of everything he's put in for years," Christos said. "It might just seem like he's broken out onto the scene, but realistically it's been a process for as long as we can remember. He's only going to want to get better as well, it's only the start. He just beat the No.1 player in the world so that says enough [about how far he can go], if he's on his game."
Kyrgios will play Raonic as the third match on Wimbledon court 1, with the first match starting at 9pm Wednesday Canberra time.
How the Aussies fared on Wimbledon Day 8
Men's singles, 4th round
Nick Kyrgios bt 1-Rafael Nadal (ESP), 7-6 (7-5) 5-7 7-6 (7-5) 6-3
Men's doubles, 3rd round
Lleyton Hewitt/Chris Guccione lost to 9-Julian Knowle/Marcelo Melo (BRA), 6-3 6-7 (7-2) 7-6 (7-5) 6-3
14-John Peers/Jamie Murray (GBR) lost to 2-Alexander Peya (AUT)/Bruno Soares (BRA) 6-3 6-7 (2-7) 7-6 (7-3) 3-6 6-3
Women's doubles, 3rd round
6-Ashleigh Barty/Casey Dellacqua (AUS) bt 12-Anabel Medina Garrigues (ESP)/Yaroslava Shvedova (KAZ), 7-6 (7-4) 6-0
Samantha Stosur/Flavia Pennetta trail Anastasia Pavlyuchenkova (RUS)/Lucie Safarova (CZE), 1-6 4-4 - to resume
Mixed doubles, 2nd round
Chris Guccione/Oksana Kalashnikova (GEO) bt 1-Mike Bryan (USA)/Katarina Srebotnik (SLO), 2-6 6-4 6-3
Anastasia Rodionova/Mikhail Elgin (RUS) bt 11-Juan-Sebastian Cabal (COL)/Raquel Kops-Jones (USA), 6-2 7-5
15-Samantha Stosur/Nenad Zimonjic (SRB) bt Martin Emmrich (GER)/Michaella Krajicek (NED), 6-1 6-2
Boys' singles, 2nd round
Harry Bourchier lost to Tim Van Rijthoven (NED), 6-4 7-6 (9-7)
Boys' singles, 1st round
Omar Jasika lost to 8-Johan Sebastien Tatlot (FRA), 7-5 4-6 12-10
Girls' singles, 1st round
16-Naiktha Bains lost to Greetje Minnen (BEL), 6-3 6-4
Kimberly Birrell bt Helen Ploskina (UKR), 2-6 7-5 6-3
Seone Mendez bt Holly Hutchinson (GBR), 6-3 2-6 8-6
David Polkinghorne covers the Canberra Raiders, local rugby league, Canberra Cavalry, racing and cycling, along with every other sport, for The Canberra Times.