Tennis Australia wants to use young gun Nick Kyrgios' rise through the tennis ranks to turn Canberra into the claycourt capital of Australia.
Kyrgios captured the hearts of Australian tennis fans with his gutsy five-set loss to world No.28 Benoit Paire in the Australian Open last week.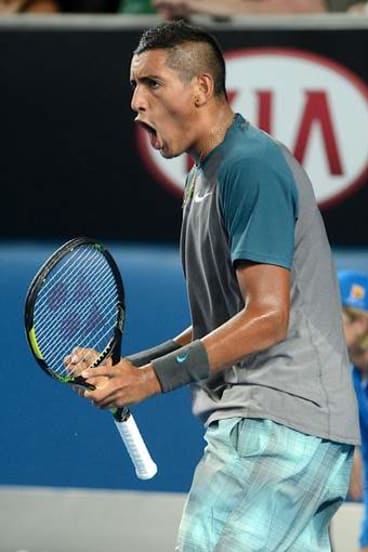 Tennis authorities and the ACT government want to couple the excitement created by Kyrgios with the redevelopment of the National Sports Club at Lyneham.
The revamped facility is expected to be finished by 2015 and it's hoped will host Davis Cup or Fed Cup fixtures, as well as an annual professional tournament in the lead-up to the Australian Open.
ACT Sports Minister Andrew Barr met Tennis Australia and Tennis ACT officials in Melbourne on Sunday and they will meet again in Canberra next month.
Mr Barr was taken on a tour of Melbourne Park and was given a full grasp of what it takes to run a major tennis tournament.
He now wants to bring that back to Canberra.
''What was encouraging was Tennis Australia's recognition that further investment into facilities at Lyneham needed to be accompanied by a commitment to bring events to Canberra,'' Mr Barr said on Monday.
''Obviously with Nick Kyrgios' performance there's a level of excitement about tennis in the Canberra region and they were wanting to capitalise on that and we'll happily work with them.''
He said Lyneham would look to use its clay courts as a point of difference from other capital cities around Australia.
Tennis ACT chief executive Ross Triffitt said the ACT's tennis centre had tried to make itself the claycourt capital of Australia back in 2001, but the wrong type of clay was put in.
That will be rectified in the redevelopment with the clay type suitable to Canberra's hot summers and frost-bitten winters used.
Triffitt said it was ''highly likely'' top-level tennis would return to the ACT in 2015.
''Clay courts have really become a priority for Tennis Australia and for events,'' he said.
''There are very few facilities that have the number of clay courts required for major events.
''We're very well placed, but we do need to resurface the existing courts, because at this stage they're not suitable for international events.''
Meanwhile, the Canberra Velocity men and women both lost their rubbers 4-2 in the Asia-Pacific Tennis League finals in Melbourne on Monday.
The Kyrgios-less men lost to Kooyong, while the women went down to Korea. They will contest the minor placings on Tuesday.
Both the men and women managed to split the singles and were level 2-all going into the deciding doubles. But neither could win a match after that and they bowed out of the finals race.

David Polkinghorne covers the Canberra Raiders, local rugby league, Canberra Cavalry, racing and cycling, along with every other sport, for The Canberra Times.
Morning & Afternoon Newsletter
Delivered Mon–Fri.