Nick Kyrgios's Mexico Open could be a springboard
The smile is back on Nick Kyrgios's face and Roger Rasheed says that confidence can act as a springboard for the Canberra tennis star.
Kyrgios has climbed to No.31 in the world on the back of winning the Mexico Open in Acapulco on Sunday.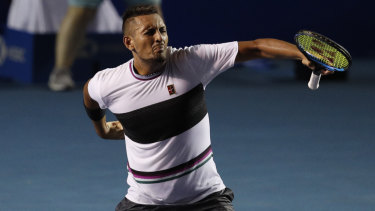 He revealed his "novel approach" in the post-match press conference, where he went jet skiing just hours before his final against Alexander Zverev, which he won 6-3 6-4 in emphatic fashion.
Zverev had no answer to Kyrgios's barrage of drop shots, insane forehand slap shots and booming serves in his fifth ATP tournament triumph.
He'll now head north to Indian Wells for the ATP Masters 1000 event, which starts on Thursday.
Rasheed, who has coached some of the world's best players, said the win could act as a springboard into the future.
He said a victory like that - where Kyrgios had to beat world No.3 Zverev, world No.2 Rafael Nadal, top-10 player John Isner and three-time major winner Stan Wawrinka - could "stimulate a lot of good things around you".
But one of the main things Rasheed liked was seeing Kyrgios enjoying tennis.
While the Canberran had a rollercoaster ride in Acapulco - Nadal labelled him disrespectful, he struggled with cramp against Wawrinka, while the crowd booed him throughout - he said he loved it.
"Nick plays impact tennis. He's flamboyant, he's got a lot of different tools and weapons, and that's why he's dangerous on the tennis court and he showed that this week," Rasheed said.
"No one's ever questioned that he's got weapons and it was great to see him put that on display for the fans and for himself.
"He spoke about tough times and hopefully this allows him to springboard himself.
"It was very positive. It was good to see him smiling playing tennis again."
In a perfect twist that sums Kyrgios up perfectly, he revealed he'd gone jet skiing on the afternoon before the final - "I don't think that's what a top-10 player would do," he said.
The tournament is held in a resort and Rasheed said he'd done similar things with his own players there.
"That's Acapulco. It's a very festive tournament. You know you're playing later in the evening so it's a lot of down time," Rasheed said.
"As he said probably not everyone would've done that, but everyone gets to the startline a different way ... it's a way of relaxing and you need to be relaxed.
"I've spent many hours on the jet skis myself with my players. It's a good way of breaking up intense tennis."
Former world No.15 Wally Masur labelled it a "novel approach - but whatever works".
He said Kyrgios would take plenty of confidence into Indian Wells, although he said he'd struggle to find any jet skis there.
Kyrgios showed a tactical side to his game in Acapulco along with the brilliant shot making.
He drove Zverev to despair with the drop shot, while he also raised Nadal's ire when he tried an underarm serve to the 17-time major winner who's known for standing a long way back when returning serve.
Masur said that was something Kyrgios has always had.
"He's always been very tactically astute. He sums players up pretty well," he said.
"Of course he's got a lot of firepower and that's his go to to blow them off the court, but he actually understands the game.
"It's one of his strengths and that was really on display - from Nadal to Wawrinka to Isner to Zverev there's four very different players there.
"That he's got the game to handle all of them is pretty impressive."
The big names Kyrgios beat on the path to the Mexico Open title further franked his efforts.
While Kyrgios possesses untold talent it was just his fifth ATP title and first in more than a year.
He won the Brisbane International in January last year, while also winning in Tokyo, Atlanta and Marseille in 2016.
"He tends to play really well against those big names, he seems to enjoy the contest in putting himself on the line against the big players," Masur said.
"To do that in one week is pretty special."
David Polkinghorne covers the Canberra Raiders, local rugby league, Canberra Cavalry, racing and cycling, along with every other sport, for The Canberra Times.