MARIA Sharapova's on-court routine verges on obsessive-compulsive. Between points, she stands with her back to the baseline, head down, studying her racquet strings, a haughty pose. It is if she expects a match, but not engagement, with her opponent or the crowd. She also avoids stepping on lines or other court markings. On Rod Laver arena, the helpful ''Melbourne'' logo at one end presents a particularly tricky footwork problem.
Even by the superstitious standards of elite sportsfolk, these are eccentric mannerisms. But there is more. When making for her chair at breaks, Sharapova deliberately steers via the mazy junction of service and sidelines, a minefield. It is as if, within her quirky formula, she is setting herself a particular challenge.
That is speculative. Sharapova admits to being superstitious, also in pre and post-match habits, and even in choice of dress. ''Over the years, you find a routine that works for you, and you stick with it,'' she said. At present, it is working a treat, not to be confused with ''Sugarpova'', the confectionary that is her latest commercial dabble.
In four matches, Sharapova has lost only five games, the fewest by any player ever to reach the quarter-finals here. On Sunday, she lost the first game of her match to Belgian journeywoman Kirsten Flipkens, but no other. At present, she is working at a rate of exactly $1000 per on-court minute. She should be the talk of the town.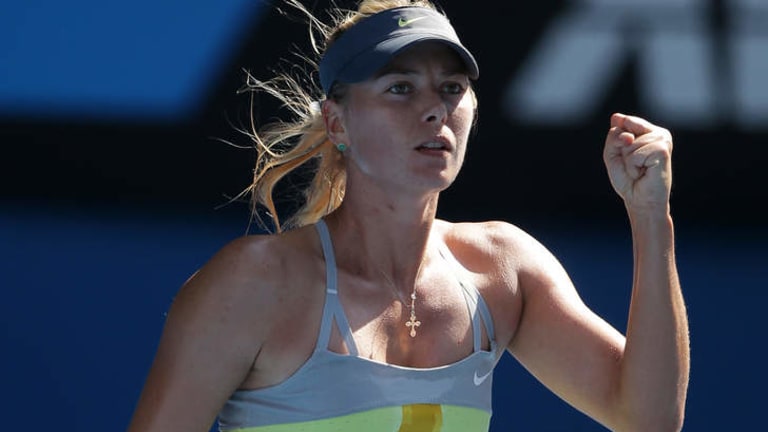 But Sharapova continues to occupy an enigmatic place in the consciousness of the tennis world. She has won all four major championships (but only one each, which in women's tennis is really only a beginning). She has been No.1 in the world, and is still No.2. A shoulder injury in 2009 almost forced her out of the game, and still requires daily treatment, so she is demonstrably resilient.
Last year, she carried the flag for Russia at the Olympic Games opening ceremony. Since she has lived most of her life in the US, the least that demonstrates is that the Cold War is well and truly over. The only controversy she ever has courted is about her shrieking, which she says is innate in her tennis. She ticks even the boxes that women athletes would prefer not to be on the form, and so is the highest-paid female athlete in the world, and the most followed female athlete on Facebook.
Yet Sharapova remains oddly remote in the affections of fans. Her reception on Sunday afternoon was, well, perfunctory, before and after. Seeking to distract from what became gruelling and inevitable, television commentators talked of how, in concert with Novak Djokovic, she had recently shown some warmth, humour and personality. She did - in a promotion for a racquet maker. It only adds to the idea of Sharapova as a commercial construct.
Again speculatively, the truth may be even more prosaic. She is a tennis player, talented and athletic, but lacking the outright power of some rivals and the metronomic consistency of others. Last year, she was worn down by Victoria Azarenka in the Australian Open final, and crushed by Serena Williams in the Olympic final. She did win the French Open, but the feeling remains that if she were to clash with Williams again tomorrow, she would merely bounce off her.
So Sharapova busies herself with her training and playing and closes her mind to the ephemera, leaving others to manage it, a profitable arrangement all round. This year, she has worked on her serve, always a modest weapon, and especially her return of serve, so necessary against the Williams canonade.
In Melbourne, she has worked with a series of Australian boys, including Luke Saville, who also hits up with Roger Federer, and another whom she beat in practice and so is desperately protecting his anonymity. ''He'd kill me if I said anything,'' said Saville. ''But I actually hit with her as well, and she's in great form.''
The results are there for all to see. But Sharapova knows well that the climb now becomes much steeper.
If she was to make a new Sugarpova flavour based on her first four matches, Sharapova was asked, what would it be called?
The blank facade dissolved utterly, and an ingenue suddenly emerged. ''I would call it 'Steamy' - but for different reasons,'' she replied, and the briefing ended in a fit of helpless giggles.
But half an hour previously, after the seemingly compulsory salute to the crowd, Sharapova had been careful not to tread on either tramline as she left.
Morning & Afternoon Newsletter
Delivered Mon–Fri.