At 32 years, Serena Williams is the same age as Roger Federer and Lleyton Hewitt, but unlike that distinguished duo, she's more than maintained her career standing over the past two years.
Hewitt's ranking and station in the game peaked more than a decade ago. Federer has been a marvel for remaining at or near the summit, but even he's ebbed, having not won a grand slam singles title since the Wimbledon of 2012; last year, he made the semis of a slam only once (Melbourne).
Serena's record, meanwhile, is of a No.1 who is further ahead of the hapless pack than she was as a 28-year-old No.1 four years ago. Victoria Azarenka, the clearcut No.2, is several lengths from Serena and less formidable than past rivals such as Justin Henin and Kim Clijsters - the duo Serena called ''the Belgium sisters'', while Maria Sharapova - despite some cattiness between the pair - isn't a genuine competitor if Serena's fit and motivated.
Serena's dominance is an anomaly of the sport. Steffi Graf, the previous player to wear the ''best player in history'' label, was retired by 30. Women's tennis traditionally saw players bloom early, in their teens and early 20s, and fall away, though the physical rigours have made the women's game an older sport than it was in Graf's day.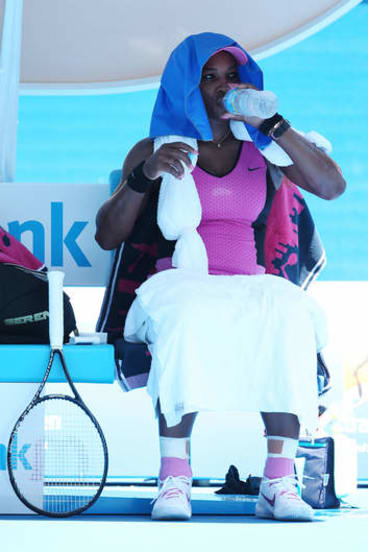 Why is a 32-year-old grand dame so far ahead? Only two explanations are possible. One is that Serena, against all the logic of elite sport, has improved at 31-32. The other is that the rest have dropped off, or simply aren't up to the standard of their highly ranked forebears.
Serena's edge over the competition has been a fact of the tour for several years, but until recently, there was always those riders. She was easily the best ''so long as she's fit'' or ''so long as she's interested''.
Serena cleaned up Daniela Hantuchova 6-3, 6-3 on Friday, in a routine third-round execution. Hantuchova was certainly respectable, she just was unable to match Serena in the facet of the game that remains most responsible for her supremacy: the service.
Serena's power advantage on serve is the game's most significant ''missile gap''. Serena serves harder and with greater consistency than her ''peers'' (she doesn't really have them), as evident in her velocity measured v Hantuchova. Serena's fastest, of 190km/h, was 25km/h quicker than her catwalk-built opponent. More tellingly, Serena slammed 10 aces to Hantuchova's two and won 74 per cent when her first serve landed, compared to Hantuchova's 54.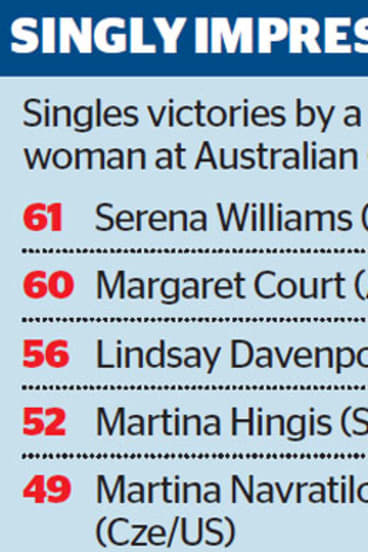 Hantuchova later declared that Serena was the best player in the history of women's tennis. ''She just keeps improving, like the rest of the field. She's a few steps ahead of us. Obviously, physically she's on another level. And I think it makes a huge difference, with her serve … being able to serve when she needs to and it's something that has always helped her game.''
Hantuchova thought Serena's serve had gained greater reliability. ''Yeah … she does come up with it on the big points, when she really needs to.'' The notion that her serve had improved was backed by no less an authority than Serena herself. ''I think it's more consistent now, hitting and following up with having better returns and stuff.''
Another factor that has been raised in American tennis circles is coaching, with Serena's new impregnability having followed the hiring of her coach, Patrick Mouratoglou, the Frenchman who took over as her mentor following her disappointing exit from the 2012 French Open; since then, she's won four of the past six ''slams''. Mouratoglou is also purported to be Serena's boyfriend, an accepted fact on the tour that also prompted some entertaining ripostes between her and Sharapova (who spoke about Mouratoglou's wife and kids, in response to Williams calling Maria ''boring'').
Sharapova's barb was a rare instance of anyone returning one of Serena's serves with interest.
Serena said she didn't know why she was better at 32. ''I don't know. I feel like, you know, in life 32 is young … in sports, it's old. But for whatever reason, I feel like I just never was really able to reach my full potential, and I have like recently I just have been able to do a little better.''
For Serena, it's never been about what the opponent can do.

Jake Niall is a senior sports writer at 'The Age' specialising mainly in coverage of the AFL. He writes a weekly column for 'The Sunday Age' and has been on staff with 'The Age' or 'Sunday Age' since 1995. Jake, who combines original news with commentary, match-based writing, features and analysis, has won a number of awards, including the Alf Brown award for the best performer in AFL media in 2012, the Melbourne Press Club's 2007 Quill award for best sports story in any medium and a Walkley award, shared with colleagues Richard Baker, Nick McKenzie, Caroline Wilson and John Silvester, for best coverage of a major issue (Essendon scandal) in 2013.
Morning & Afternoon Newsletter
Delivered Mon–Fri.