London- The inevitable talk following Petra Kvitova's 6-3, 6-0 final brilliance against Eugenie Bouchard was about how many more Wimbledon titles she might now win. Then again, there was similar optimism back in 2011, when an upset victory over Maria Sharapova by the then-lesser-known Czech was also hailed as the start of something special.
But, three years after Kvitova's maiden grand slam success on the same famous grasscourt, the 24-year-old left-hander from small-time Fulnek was not thinking of how many more multiples there might be at her favourite and best tournament. She was just enjoying this one. All/just 55 stunning minutes of it. Immensely.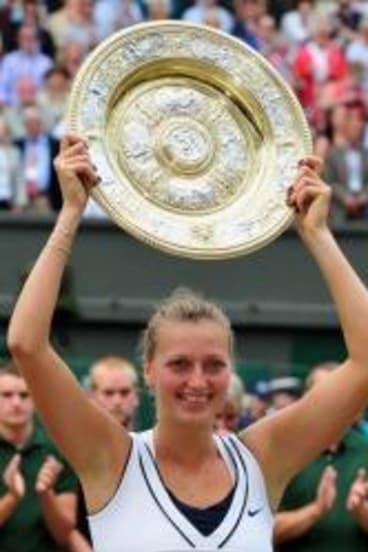 "I can't really say a number; I'm just glad for the second title here,'' Kvitova told a small group of international media, while also admitting she was determined to celebrate this time, having been too weary after No.1. "I love to play on the grass, I love to be here in the Wimbledon, and we will see.''
She had earlier said she hoped the second would not be the last, and the 24-year-old's long-time coach David Kotzya is confident it will not be - while less specific than John McEnroe, who predicted that, on the strength of a quite remarkable shot-making exhibition, there would be three or four more to come at the All England Club.
"I've heard these same sentences in 2011,'' Kotyza told Fairfax Media, as the corks popped on the first magnum of champagne shared by Team Kvitova on a terrace high above SW19. "But this performance is something extraordinary.
"She is not a stable player like maybe Genie Bouchard. She has weapons, but she has also disadvantages, so it's very difficult to have all these puzzles together. But she has to play this style - and maybe she can lose two, three, four times in second round, third round, but then finally she can win the slam.
"So I don't know if she's able to win a couple more but I definitely think this is not the last one. I hope so.''
Kvitova has spoken at length about the pressures she struggled to handle at times after her straight sets final win over Sharapova in 2011. Seeded second at her next major, the US Open, for example, she lost in the first round.
"It was so tough for me to (get) used to everything, and I was quite young and I didn't really (handle) that pressure; suddenly it was too much for me, and I really put pressure on myself as well,'' she said, after the finest big-match performance of her life. "I really wanted it too much and everybody thought that I going to win everything, and it's just impossible, and now I know it. I already know how is it to deal with the pressure and I still need to work on everything: the tennis, fitness and mentally side as well.''
A semi-finalist at every major except the US, Kvitova's desire is that this result will help translate to even more success at other slams. Away from her beloved grass, it is not necessarily as simple for the left-hander to play a high-risk game that, when executed as flawlessly as it was on Saturday, can nevertheless bring such great rewards.
Having already reached No.2 in the world, and set to return to No.4 from sixth on Monday, Kvitova said No.1 was an ambition, but not burning. "I was pretty close to No.1 and, I feel this is something more special, to have this grand slam, especially Wimbledon, than to be No.1,'' she said. "Of course the No.1 means a lot to everyone. For me, I'm just glad that I have this grand slam. We will see what the future brings. I mean, it's nice to be No.1, for sure. I will try everything what I can to be there.''
The super-ambitious Bouchard is aiming for the same destination, have no doubt, and for the history-making Canadian who had been adopted by the British public, and media, and was watched from the Royal Box by her namesake, Princess Eugenie, her first major final was an almost shockingly one-sided contest.
Asked whether she could recall an opponent ever playing a better match against her, Bouchard could not nominate a specific contest, but admitted that, "for sure, she was on. She has weapons. We know that when she's on, she's very tough to beat. Especially on this surface. She's been in the final before, all these things. I just have to give her credit. She deserved to win today.
"I definitely got outplayed, and I felt that way after the match. But I'm still holding my head up. I feel like I've come a long way and I'm proud of what I've achieved not only this week but this year as well. So life is good, and I'm just going to keep working. That's what you have to do, just go back to work.''
Bouchard will also move into the top 10 for the first time, at No.7, and the only woman to reach the semis at all four grand slams played so far this season believes she will be better for having tried and failed to win the biggest match of her career.
"It was a big moment walking out onto centre court for a final. I have that experience now. I know what it feels like. I hope I can walk out to many more finals. That's the goal,'' said Bouchard. "I am very motivated to win a grand slam. It's been a lifelong dream of mine. I feel like I've taken steps in the right direction to achieve that. This year I've been close in every slam, so I'm just going to keep going.''
So, too, Kvitova, who at least knows what to expect the second time around. And if she is not quite as ruthlessly driven as the glamorous Bouchard, then hers was a hugely popular victory among her peers, and at home in the Czech Republic - the nation of just over 10 million that continues to punch above its tennis weight.
But Kvitova remains its only active grand slam singles winner, and Kotyza says her previous ups-and-downs were all part of being a young woman who found success early, and maintained her level well enough, without quite matching what she had achieved before.
"Highs and lows, that's the part of this, and I think she handled this pressure quite good, she stayed in the top 10,'' the Czech coach said. "But a lot of people they expected - and they wish, also - that this is maybe 'real champion', and 'the future player', and were expecting a lot of grand slams.
"But I think she's a little bit different, very sensitive girl, she needs the time, and now I think she's back on track. So I'm really very happy for her, because she did a lot for this.''

Linda Pearce is the Chief Tennis Writer and general sports reporter for The Age. She writes about a range of sports, including football, netball, and gymnastics. Linda has twice been named Australian tennis writer of the year.
Morning & Afternoon Newsletter
Delivered Mon–Fri.