ISTANBUL: Maria Sharapova insists she will not have Victoria Azarenka, or tennis, on her mind when her holidays begin this week with a strawberry daquiri in one hand, a magazine in the other and the ocean in sight.
''I'm going to be very satisfied,'' Sharapova said, before ending her career grand slam season with this morning's WTA Championships final against Serena Williams.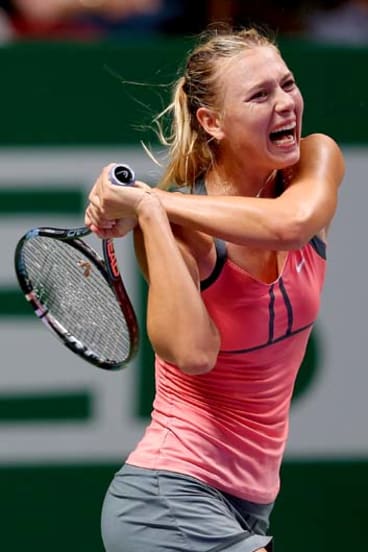 The world No. 2 and French Open champion had just beaten Azarenka, the new year-end No. 1, 6-4 6-2. It was just her second win over her not-so-friendly rival in six attempts this season. Satisfied? You could say that.
''Of course victories mean a lot to you,'' Sharapova said.
''That's what you play for and practice for. And especially when you find yourself in a losing position a few times during this year you want to try to figure out how to change those things around.''
So she did, but it was telling that both her wins this year over Azarenka have come on slow courts, and her four losses were all on faster hardcourts.
But the French Open champion struck the ball authoritatively from the outset, taking advantage of Azarenka's slow movement, just 16 hours after the end of her final round-robin match against Li Na.
So was fitness a factor in the demanding round-robin event featuring the world's top eight players?
Azarenka: ''I'm not going to say that I was the freshest today, and I also don't want to .. make excuses because that's not really my type. I don't like to do it.
''I give Maria all the credit today. She played really well and looks in great form. She deserved to win 100 per cent. Could I play better? Yeah, I could have moved better for sure. But it's done today. I have no regrets.''
Sharapova, indirectly, yet so pointedly: ''Everybody is hurting at this time. Some show it more than others.'' The rest was said with a stare. Yep. Got it. So the two are not close, although they play similar games at comparable volume and rankings-wise little separates them, Azarenka expressing pride in her outstanding six-title season, including her debut grand slam title at Melbourne Park.
''I'm really proud of what I've done the whole year. I started the year with No. 3 and I finished with No. 1, which in numbers doesn't seem like a huge jump, but we all know in reality it's a pretty big difference,'' Azarenka said.
''I'm a much more mature person, a much more mature player, and I also am very proud of that too.''
Williams is still the same old Serena, although with a slightly better perspective these days, it seems. Her game, at its best, remains unrivalled, and Agnieszka Radwanska had no chance of backing-up after Friday's three hour, 29-minute marathon.
''Those last two matches really killed me, especially that I didn't have the day off. I really needed that,'' said Radwanska, who was no match for Williams' 39 winners to 17 unforced errors, the Wimbledon, Olympic and US Open champion winning 6-2 6-1.
''Especially [on] that surface. You know, it's very sticky, so 3½ hours is a lot. I really tried today and I really wanted to run, but my legs didn't.''
Morning & Afternoon Newsletter
Delivered Mon–Fri.