The other side of the Blade Runner
OSCAR Pistorius is the world's best-known Paralympic athlete, inspiring awe for his ability to overcome adversity and push to ever-greater achievements. Less well-known is his love of guns and a tendency to lose his temper.
Before his arrest following the violent death of his girlfriend, one interviewer reported that he kept a handgun by his bed, a baseball bat and a cricket bat behind the door and a machinegun near the window.
The 26-year-old South African had also attracted attention for domestic unrest at his home, though no charges were brought.
IOL Media reported that in September 2009, Pistorius spent 17 hours in jail after being charged with common assault. Cassidy Taylor-Memmory, a student at the University of Pretoria at the time, alleged that Pistorius had slammed a door on her after they had a fight at a party at his house.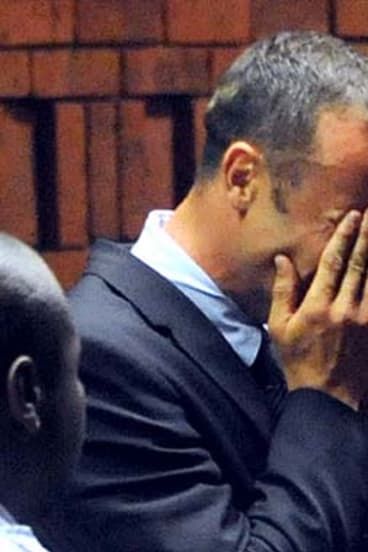 The director of public prosecutions decided not to pursue the matter, saying authorities did not believe Pistorius had any intention to assault Taylor-Memmory.
At Schipol Airport in Amsterdam in 2006, Pistorius was detained after being accused of making a false declaration over a plane ticket, and was held again after security officers found traces of explosive material on his prosthetic limbs.
''It looked like a scene out of a cop thriller,'' he recalled.
Pistorius could seem to the casual observer intensely disciplined, regimented even, but away from the athletics track he lived a far less structured life. In 2008 he crashed his boat into a submerged object on a river south of Johannesburg, breaking his jaw and requiring 172 stitches in his face. More recently, careering through long grass on his dirt bike, he struck a fence and turned around to see one of his prosthetic legs swinging from the barbed wire.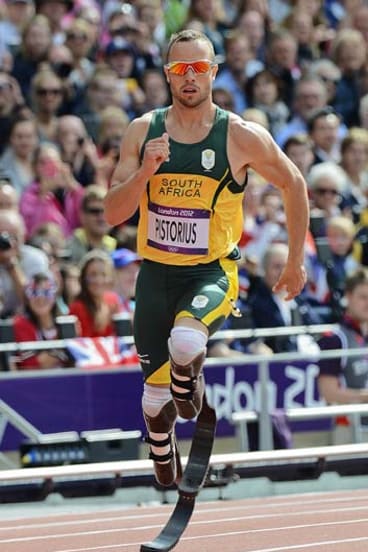 Three years ago he moved to a private estate in Pretoria, living alone with three dogs.
He disclosed that his previous relationship with Vicky Miles, a girlfriend since school days, had been ''very fiery'' and that the couple ''often rowed''. After one telephone row he set off to ''make his peace'' with her, leaving Durban at 3 am to join her in Johannesburg, more than 600 kilometres away.
He fell asleep at the wheel and crashed, wrecking his car.
In November he allegedly threatened to ''break the legs'' of Mark Batchelor, the South African football player whom he believed had slept with his then girlfriend. Batchelor later accused the athlete of intimidation.
Samantha Taylor, a Cape Town marketing student and a girlfriend of Pistorius for 18 months, made the first public suggestion that this supposed paragon of virtue was not quite what he seemed.. ''Oscar is certainly not what people think he is,'' she said, intimating his charming urbanity was a highly polished veneer. Pistorius's impeccable politesse, with athletic fortitude, made him a marketing dream and the cherubic emblem of disability sport.
But signs had emerged at the Paralympics, once breathless talk of the transcendence of his Olympic baptism had subsided, that the halo was beginning to slip.
Overtaken in the last strides by Brazil's Alan Oliveira in a dramatic final, Pistorius could not conceal his chagrin, accusing his rival of racing with longer artificial legs: ''We're not running a fair race here. I don't believe you can come from eight metres behind to win.''
He later apologised.
The remarks left him dangerously exposed to charges of hypocrisy. For years he had been railing against critics who claimed that his prostheses invested him with an unfair advantage, and now here he was impugning the integrity of a fellow athlete on the same issue.
Pistorius has projected himself as a man of Christian faith, talking repeatedly of being ''blessed'' in his rise to poster-boy of the Paralympic movement, a role he adored.
But a streak of pugnacity simmered under that exterior; would you believe his idol is Mike Tyson?
There was also a love of guns. When Michael Sokolove, a New York Times reporter, visited Pistorius at his house last year, the sprinter took him to a nearby shooting range to practise with a 9mm handgun - the same weapon with which he is said to have killed Reeva Steenkamp.
''Maybe you should do this more,'' the reporter told him.
''If you practised, I think you could be pretty deadly.''
Abuse in girlfriend's past
Reeva Steenkamp was killed hours before she was due to deliver a Valentine's Day speech disclosing that she once endured an ''abusive relationship''.
The 29-year-old model was shot dead inside the home of Oscar Pistorius in the early hours of Valentine's Day. The notes of the address she would have given to Sandown High School in Pretoria have now emerged.
Miss Steenkamp was going to talk about her suffering at the hands of a boyfriend - before she met Pistorius - and the ''loss of self-worth'' as a result.
''I was in an abusive relationship at the same time [his mother used to abuse him],'' read the notes.
She was in the relationship towards the end of her time at university in Port Elizabeth. Her traumatic relationship caused her to leave Port Elizabeth and ''move to Jozi [Johannesburg]''.
''I lost a lot of self-worth during my last year in PE [Port Elizabeth] before I moved to Jozi and it took some serious soul searching to remind myself of my value in this world,'' reads the draft of her speech.
Telegraph, London
Morning & Afternoon Newsletter
Delivered Mon–Fri.