Who the devil is spooking the Raiders?
CANBERRA Raiders prop David Shillington was fined for breaching the club's media policy on Friday, including comments in which he said lenient treatment of young stars had the potential to ''create the devil'' in players. We assumed he was referring to Josh Dugan and Blake Ferguson, but maybe we've actually found the Raiders devil he was talking about. Check out the grim reflection cast in the mirrored doors in this picture, which appeared recently on the Raiders Facebook site.
Just Joshing
STILL on Shillington's comments, Locker Room understands the Raiders prop contacted Josh Dugan on Friday afternoon to try to clear the air. Dugan launched a Twitter tirade in response to Shillington's comments: ''I think shillington forgets he went DUI twice lol hes done some favors to get that Aussie jersey. Well done mate.'' Shillington tried to explain he was talking about players in general, not specifically referring to Dugan and Blake Ferguson. Dugan has made plenty of excuses in the past, so not sure if he swallowed that one.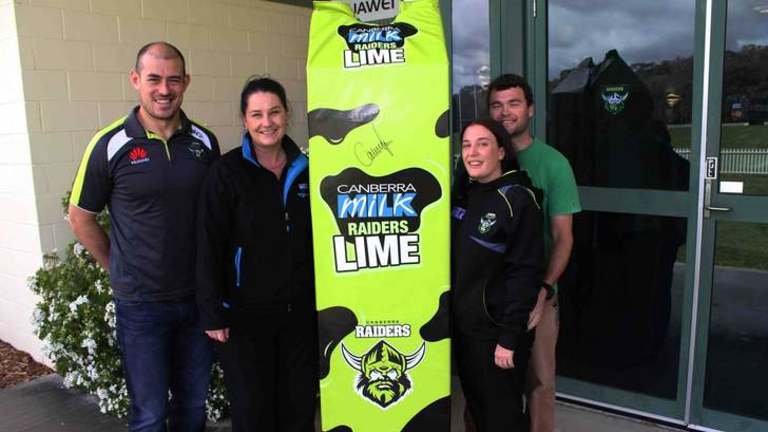 Plugging the leaks
Having fined Shillington for his comments in the media - which included how the players had campaigned for Andrew Dunemann to be installed as coach - Raiders chief executive Don Furner has signalled his intent to crack down on media leaks from inside the Canberra camp. ''Certain leaks came out of areas that damaged our club this year, and you can't have it. You can't be paid by an organisation that's looking after you and then talk about issues you really aren't qualified or supposed to talk about,'' Furner told ABC Radio. But publicly fining a player for comments they have put their name to may not be the best way to stop leaks. Surely that will only make the players fear heavy-handed punishment and prefer to speak with media with anonymity?
Breaking news … not
TALKING of worst-kept secrets at the Raiders, Furner has finally confirmed local junior Joe Picker will not be at the club next season. The Canberra Times broke that story on March 20 this year, despite denials from the club. What's more disappointing is the club didn't confirm this before the last match of the season, so Picker, a loyal servant of 110 NRL games, could have received some kind of farewell from the fans. Locker Room wishes Picker all the best in finding a new NRL gig soon.
Oldies but goodies
THE oldest basketball club in the ACT, the Weston Creek Woden Dodgers, will hold a 55-year reunion dinner on October 19 at the Woden Tradies. The club has had more identities than the NBL itself. It was created in 1958 as the Deakin Dodgers, became Weston Creek in 1967, and later amalgamated with Woden Basketball Club. A number of original team members are likely to be at the dinner. Book a table at www.DODGERS.jtevents.com.au
Real community spirit
NEW Softball ACT chief executive Matt Morrissey should be commended for his passion in trying to lift the profile of the sport, and for doing so with a genuine community touch. Morrissey took part in the Vinnies CEO Sleepout in mid-winter to try to raise money for the homeless, and Softball ACT recently signed a service agreement to enable Lifeline to generate funds from the canteen services at the Hawker International Softball Centre. Now Softball ACT is looking to establish a league for people with disabilities after holding a come-and-try day on September 15. For more information on Softball ACTs D-League, visit their website at www.act.softball.org.au
French meets Blues
SHE'S only been in town for a couple of weeks, but Canberra Capitals' French recruit Isabelle Strunc is already immersing herself in the Australian culture. A huge Carlton fan, Capitals skipper Jess Bibby took Strunc to last week's Carlton-Swans semi-final in Sydney, and even gave her a Blues jumper. Strunc had her first meat pie, but unfortunately the Blues suffered a season-ending defeat.
Beware little Italy
Canberra Raiders stars Terry Campese and Paul Vaughan have both been named in an Italy World Cup side that's full of NRL talent. The Italians, coached by former Queanbeyan Blues reserves and under-17 mentor Carlo Napolitano, are rated a real danger side, with the likes of Anthony Minichiello, James Tedesco, Craig Gower and Anthony Laffranchi also in the squad announced on Saturday.
Jon Tuxworth is a sports reporter at The Canberra Times.